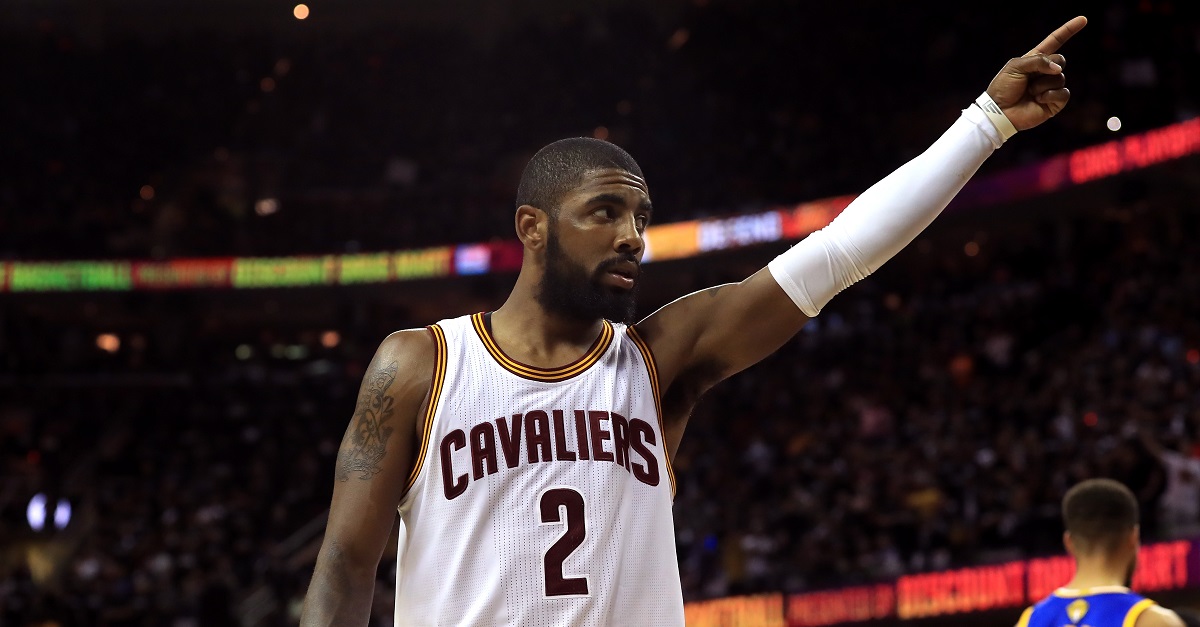 Ronald Martinez/Getty Images
CLEVELAND, OH - JUNE 09: Kyrie Irving #2 of the Cleveland Cavaliers gestures to the crowd in the third quarter against the Golden State Warriors in Game 4 of the 2017 NBA Finals at Quicken Loans Arena on June 9, 2017 in Cleveland, Ohio. NOTE TO USER: User expressly acknowledges and agrees that, by downloading and or using this photograph, User is consenting to the terms and conditions of the Getty Images License Agreement. (Photo by Ronald Martinez/Getty Images)
It was reported last week that Cleveland Cavaliers point guard Kyrie Irving wants a trade and badly. He is likely trying to get out of Cleveland before LeBron James potentially opts out of his contract next summer and leaves the team for greener pastures. While Irving doesn't have a no-trade clause in his contract, he's made it clear he prefers to be dealt to one of four teams in the San Antonio Spurs, New York Knicks, Minnesota Timberwolves and the Miami Heat.
RELATED: Kyrie Irving's trade demand could cost a preferred destination more than its only All-Star
It would appear that he has a favorite among those four though as Adam Zagoria is reporting.
"One league source told ZAGSBLOG that the Knicks were not Irving?s preferred destination, and that San Antonio was atop his list."
While he would certainly help the Spurs compete, what they would have to give up to make the trade work would likely negate any positive effect Irving's addition would have on them. They would have to part with picks which they are somewhat reluctant to do, even if they are always in the lower part of the draft. The Spurs would likely have to send LaMarcus Aldridge or Kawhi Leonard — and that will never be an option — and Aldridge wouldn't fit at all with LeBron James and Tristan Thompson there.
Irving's lack of a no-trade clause also makes it hard for him to really decide where he's going to go since the team ultimately decides his fate. If a trade comes in from somewhere else that's more enticing than anything one of those four teams can hand out then you have to believe the Cavaliers won't really care about Irving might feel about it and pull the trigger to get rid of a guy who doesn't want to be there and could bring in serious assets in return.
[h/t Pro Basketball Talk]