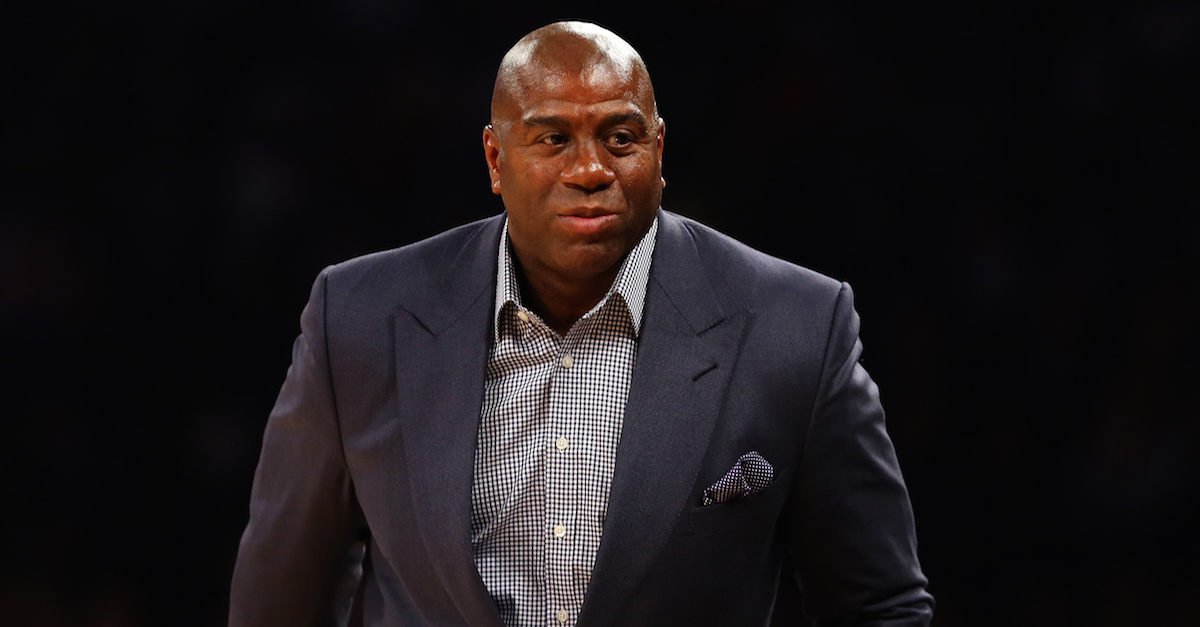 Elsa/Getty Images
NEW YORK, NY - FEBRUARY 15: NBA Legend Earvin "Magic" Johnson Jr. attends the 2015 NBA All-Star Game at Madison Square Garden on February 15, 2015 in New York City. NOTE TO USER: User expressly acknowledges and agrees that, by downloading and/or using this photograph, user is consenting to the terms and conditions of the Getty Images License Agreement. (Photo by Elsa/Getty Images)
Markelle Fultz is pretty much a lock to be selected with the No. 1 overall pick in the NBA Draft on Thursday, June 22. But who will be the team drafting him with the top pick?
Both the Los Angeles Lakers and the Philadelphia 76ers are attempting to trade up with the Boston Celtics for the top pick on Thursday. The Lakers currently have the No. 2 pick, while the 76ers have the No. 3 pick.
Magic Johnson is reportedly "in love" with Fultz as a prospect, and he could try to trade the No. 2 pick and Julius Randle to the Celtics to draft Fultz at No. 1.
Related: Boston Celtics reportedly in ?serious? talks for blockbuster trade
The 76ers also want Fultz, and their offer could be worth more than the Lakers' offer.
The Celtics seem to like Josh Jackson despite Fultz being considered the top prospect in the draft. So, if Boston is set on taking Jackson, why not trade back and take him while gaining other assets?
Of course, these trade rumors could be smokescreens from any of the teams at the top in order to generate offers from other teams considering moving up in the draft.
The most likely scenario for Thursday's draft is Boston keeping its pick and the Lakers following suit, but Philly is the wild card to make a splash. Along with the No. 3 pick, the 76ers could also trade Jahlil Okafor. Okafor and Joel Embiid play the same position, so they could look to unload the former to acquire a guard or another pick.
Either way, the draft promises to be full of drama Thursday night?especially with two of the biggest franchises in the sport holding the top two picks.
(h/t 247Sports)