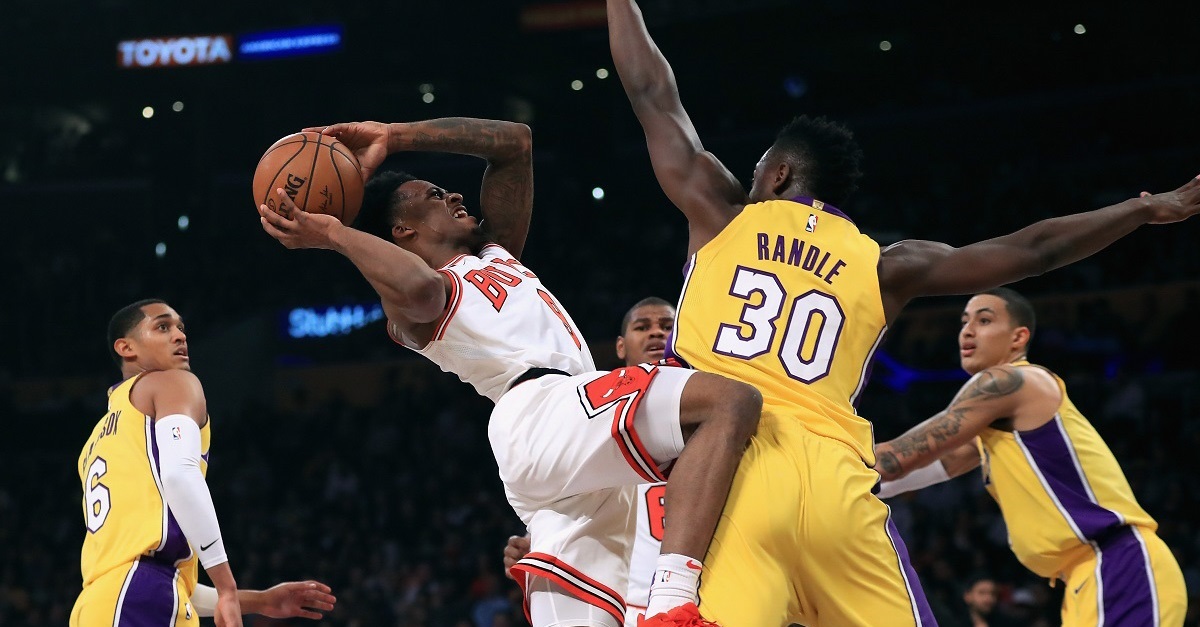 Sean M. Haffey/Twitter
LOS ANGELES, CA - NOVEMBER 21: Julius Randle #30 of the Los Angeles Lakers defends against Antonio Blakeney #9 of the Chicago Bulls during the first half of a game at Staples Center on November 21, 2017 in Los Angeles, California. NOTE TO USER: User expressly acknowledges and agrees that, by downloading and or using this photograph, User is consenting to the terms and conditions of the Getty Images License Agreement. (Photo by Sean M. Haffey/Getty Images)
The Los Angeles Lakers would reportedly love to trade forward Julius Randle and guard Jordan Clarkson, according to Tania Ganguli of the Los Angeles Times.
Randle?s situation is worth watching, though. The Lakers would love to trade him if they could, and Jordan Clarkson fits in that category too. Both players know they have been offered in trades by the Lakers, and they?re handling it in different ways.
As the Lakers look toward free agency this summer, the team will be doing everything they can to clear more cap space. The team will be aggressive this summer as they attempt to sign multiple star players, but in order to do so, they'll still need to clear more cap space. If the opportunity were to present itself that they can trade Randle and Clarkson, the team would likely do it.
Randle can be a restricted free agent this summer and would carry a cap hold of around $12.5 million, while Clarkson is owed just under $26 million over the next two seasons. Shedding those salaries would go a long way in creating enough cap space to sign star players in free agency so the Lakers figure to be very aggressive in trade talks in the coming weeks.
The Lakers have reportedly been shopping these two players for much of the season. It was reported in early November that Randle's future with the Lakers was in doubt and the team was looking to trade him at some point before free agency. It might prove to be difficult for the team to trade these players as other teams know the Lakers want to create cap space so they could demand more in return to take these players off of their hands.
As the season continues toward the trade deadline in February, it will be interesting to see if the Lakers can move one or both of these players.