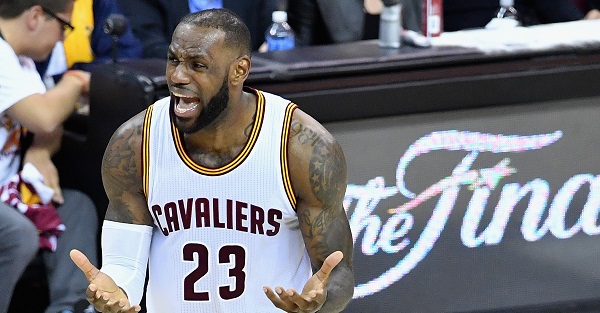 Jason Miller/Getty Images
CLEVELAND, OH - JUNE 07: LeBron James #23 of the Cleveland Cavaliers reacts in the second half against the Golden State Warriors in Game 3 of the 2017 NBA Finals at Quicken Loans Arena on June 7, 2017 in Cleveland, Ohio. NOTE TO USER: User expressly acknowledges and agrees that, by downloading and or using this photograph, User is consenting to the terms and conditions of the Getty Images License Agreement. (Photo by Jason Miller/Getty Images)
LaVar Ball accurately predicted that the Los Angeles Lakers would draft his son, Lonzo, with the No. 2 overall pick, and now he's back with another bold prediction.
According to Ryan Ward of ClutchPoints, Ball is predicting that LeBron James will join Lonzo and the Lakers for the 2018 season.
"Let me tell you this, it would be a great fit, and LeBron is coming to L.A," Ball said. "What's in Cleveland? You want to be a superstar, man. Superstar franchise.

"It's going to be like this, and I'm talking about reality. He's going to say, 'You know what? I went to Miami. Won a championship. Brought one back to my hometown. I'm the only one to go to three different places and bring a championship.'

"You do not give Lonzo Ball the best player in the game and don't think they going to win! He is going to fall in love with Lonzo so much on the way that he play. They both understand the game. Best player in the game and you don't think he coming? Stop it!"
Related: LaVar Ball's Big Baller Brand just took another massive leap to relevancy
The Lakers have been a cellar dweller for the last few seasons, but the presence of LeBron and possibly Paul George in addition to Lonzo Ball and Brandon Ingram would instantly make them relevant again in the Western Conference.
LeBron will be a free agent after the 2017-18 season, and if he doesn't stay with the Cavaliers, the Lakers are rumored to be his next potential destination. They will have cap space and young talent, though competing in the Western Conference would be extremely challenging.
The Lakers will likely be bad again in 2017, and the only way they get to keep their draft pick is if it's No. 1 overall or it falls anywhere from No. 7-30.
(h/t CBS Sports)