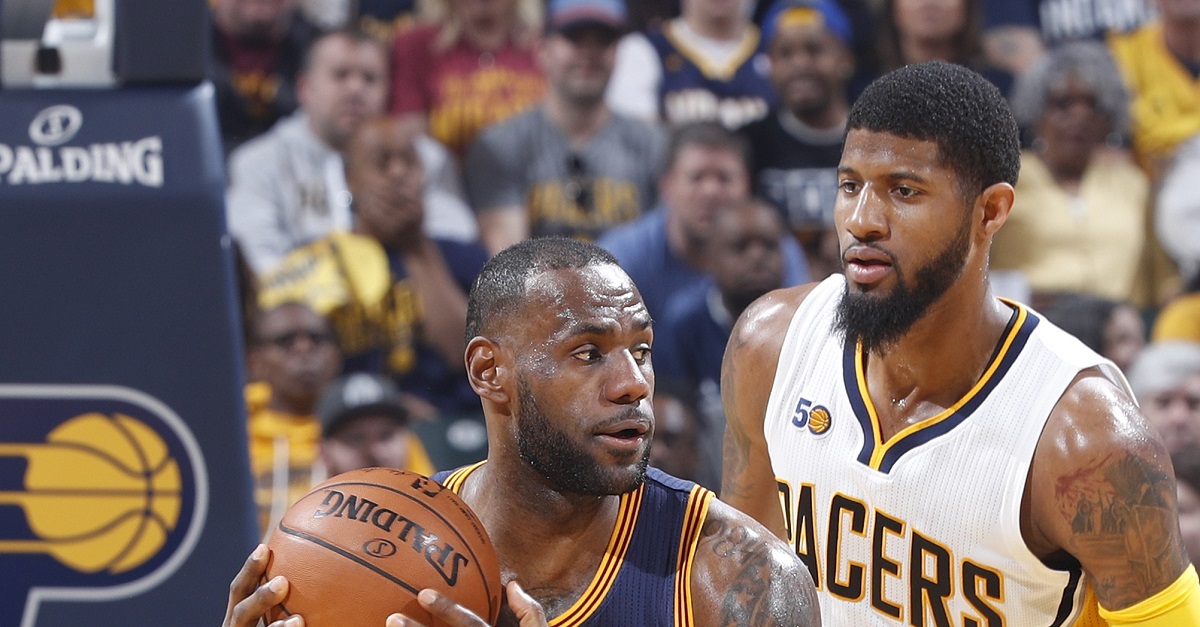 Joe Robbins/Getty Images
INDIANAPOLIS, IN - APRIL 23: LeBron James #23 of the Cleveland Cavaliers handles the ball against Paul George #13 of the Indiana Pacers in the first half of Game Four of the Eastern Conference Quarterfinals during the 2017 NBA Playoffs against at Bankers Life Fieldhouse on April 23, 2017 in Indianapolis, Indiana. NOTE TO USER: User expressly acknowledges and agrees that, by downloading and or using the photograph, User is consenting to the terms and conditions of the Getty Images License Agreement. (Photo by Joe Robbins/Getty Images)
The Cleveland Cavaliers have had a frustrating offseason as they have not had any great signings to speak of and are now dealing with an unhappy LeBron James and Kyrie Irving. To make matters worse, apparently the Cavaliers had a shot at landing Paul George before he was traded to the Oklahoma City Thunder.
RELATED: Pacers reportedly had trade discussions to send Paul George to Warriors
Several ESPN reporters joined in on a story that says the Cavs had George in the bag until one fatal text message. Pacers general manager Kevin Pritchard had agreed to the deal that would give the Cavs yet another All-Star, but made a last minute text that undid the whole deal and the Cavs were thrown back to square one. The team was celebrating the move right before the text and now it's a "moment that lives in infamy" for the organization according to the ESPN report.
Couple that with the failure to find another GM in a timely manner and the inability to sign any big names in free agency and the Cavs could have a serious problem on their hands. Especially if Kyrie Irving ends up getting his trade demand met to head elsewhere.