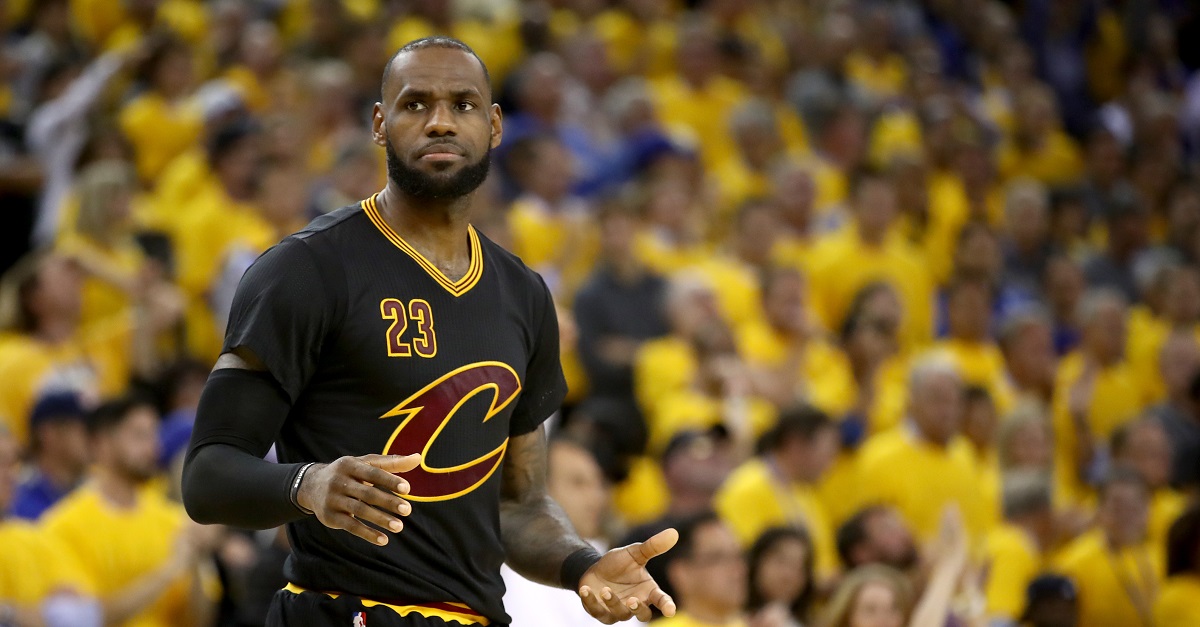 Ezra Shaw/Getty Images
OAKLAND, CA - JUNE 12: LeBron James #23 of the Cleveland Cavaliers reacts against the Golden State Warriors in Game 5 of the 2017 NBA Finals at ORACLE Arena on June 12, 2017 in Oakland, California. NOTE TO USER: User expressly acknowledges and agrees that, by downloading and or using this photograph, User is consenting to the terms and conditions of the Getty Images License Agreement. (Photo by Ezra Shaw/Getty Images)
LeBron James just lost for the fifth time in the NBA Finals as the Golden State Warriors won Game 5 129-120. He won three total rings (one with his Cleveland squad last season and twice in 2012 and 2013 with the Miami Heat). However, despite playing with two other All-Stars on both of those teams he is convinced that he has somehow never played for a "super team."
RELATED: Golden State Warriors reportedly have already made a controversial decision on White House visit with Donald Trump
So James is saying that playing with two All-Stars in Kyrie Irving — a former No. 1 overall pick — and Kevin Love as well as superior role players like JR Smith, Iman Shumpert, Tristan Thompson and Kyle Korver does not constitute a "super team" in this day and age. Irving was probably the third-best player in the series behind Kevin Durant and James. You could even argue that Love was the fourth-best considering how poorly Stephen Curry and Klay Thompson played for stretches there.
Apparently him starting "The Heatles" and reigniting the "Big 3" movement wasn't him joining a super team either. It's not like he was playing with a former NBA Champion in Dwyane Wade and an All-Star in Chris Bosh. He also had a similar supporting cast in Ray Allen, Chris Andersen, James Jones, Mario Chalmers, Shane Battier, and Rashard Lewis. So his claim of not playing on a super team seems pretty invalid.
James also threw some serious shade at his teammates and the effort they gave throughout the series with this telling quote:
He used the phrase "for me personally" twice just to make sure he separated himself from the team. That's not a good look even after a tough series loss like this for James. It's his fifth time experiencing it so he probably should have known to be a little more careful with his words.