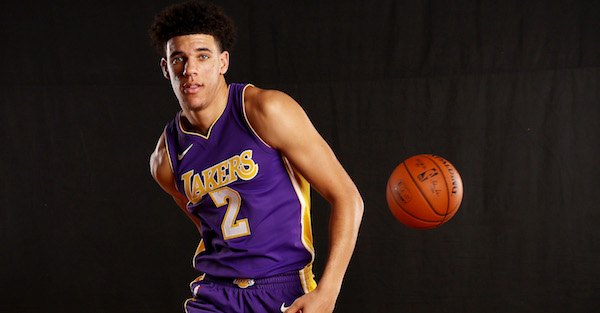 Elsa/Getty Images
GREENBURGH, NY - AUGUST 11: Lonzo Ball of the Los Angeles Lakers poses for a portrati during the 2017 NBA Rookie Photo Shoot at MSG Training Center on August 11, 2017 in Greenburgh, New York. NOTE TO USER: User expressly acknowledges and agrees that, by downloading and or using this photograph, User is consenting to the terms and conditions of the Getty Images License Agreement. (Photo by Elsa/Getty Images)
The Big Baller hype is real, at least for one night.
Los Angeles Lakers rookie point guard Lonzo Ball became the youngest player in NBA history to record a triple-double during Saturday's 98-90 loss to the Milwaukee Bucks with 19 points, 13 assists and 12 rebounds in 38 minutes.
Ball achieved the feat at age 20 years and 15 days, which surpassed LeBron James' previous record of 20 years, 20 days.
Ball recorded the triple-double after grabbing his 10th rebound early in the fourth quarter of Saturday's game, having already scored 13 points and distributed 11 assists.
Earlier in the season, Bucks coach Jason Kidd, who is third all-time in career triple-doubles, referred to comparisons of Ball to himself as a rookie as a "stretch" earlier this week.
The former UCLA standout also managed to achieve his first career triple-double in his 13th career game, which took 55 less games than Kidd during his first NBA season.
However, Ball's historic performance wasn't enough to end the Lakers' losing streak, which extended to three games with Saturday's loss.