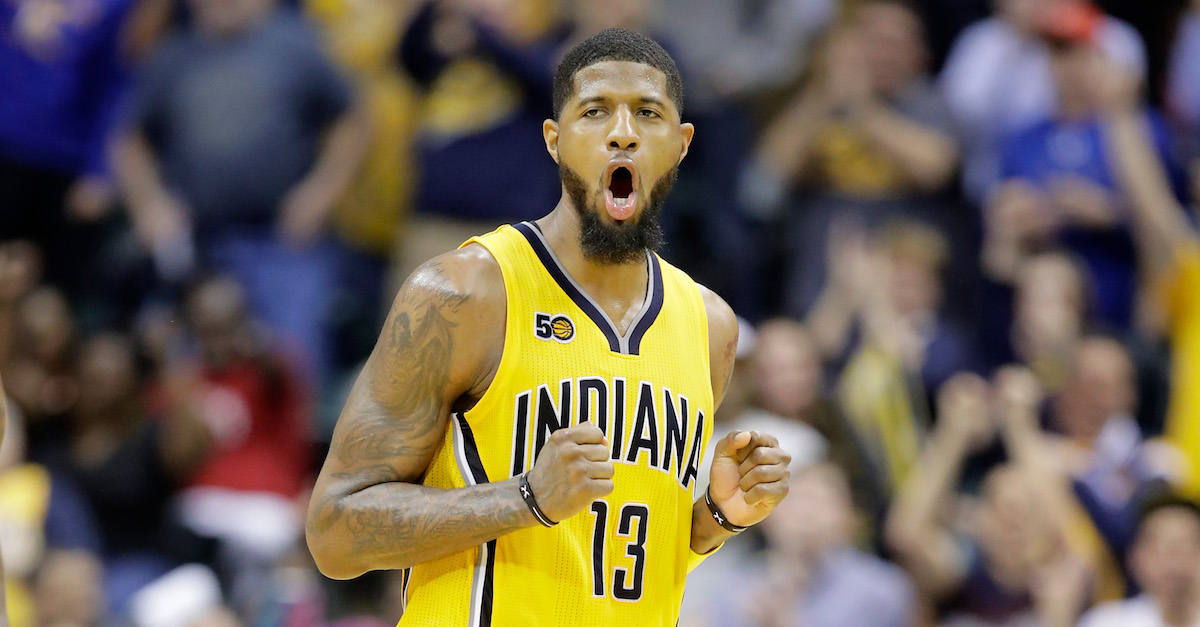 Andy Lyons/Getty Images
INDIANAPOLIS, IN - APRIL 04: Paul George #13 of the Indiana Pacers celebrates during the 108-90 win over the Toronto Raptors at Bankers Life Fieldhouse on April 4, 2017 in Indianapolis, Indiana. NOTE TO USER: User expressly acknowledges and agrees that, by downloading and or using this photograph, User is consenting to the terms and conditions of the Getty Images License Agreement (Photo by Andy Lyons/Getty Images)
The Los Angeles Lakers have been investigated by the NBA and, on Thursday, it was revealed that the organization received a $500,000 fine for violating the league's anti-tampering rule with regard to Paul George. In an official statement, the NBA indicated that "the investigation did not reveal evidence of an agreement or understanding that the Lakers would sign or acquire Mr. George" but the avoidance of the most significant possibility did not keep Los Angeles from a hefty fine.
The conduct at issue involved communications by Lakers General Manager Rob Pelinka with the agent representing Paul George that constituted a prohibited expression of interest in the player while he was under contract. The penalty reflected a previous warning issued by the NBA to the Lakers regarding tampering, following comments made by Lakers President of Basketball Operations Earvin Johnson about Paul George during an April 20 national television appearance.
Johnson's now infamous television appearance came on Jimmy Kimmel Live! in April but it was not his direct involvement that got the Lakers in hot water. Still, the final culprit is of little consequence in the grand scheme and the end result is the second-largest tampering fine to an organization in the history of the league.
In some respects, the Lakers appear to get off without massive damage here but a fine of this magnitude isn't exactly nothing.