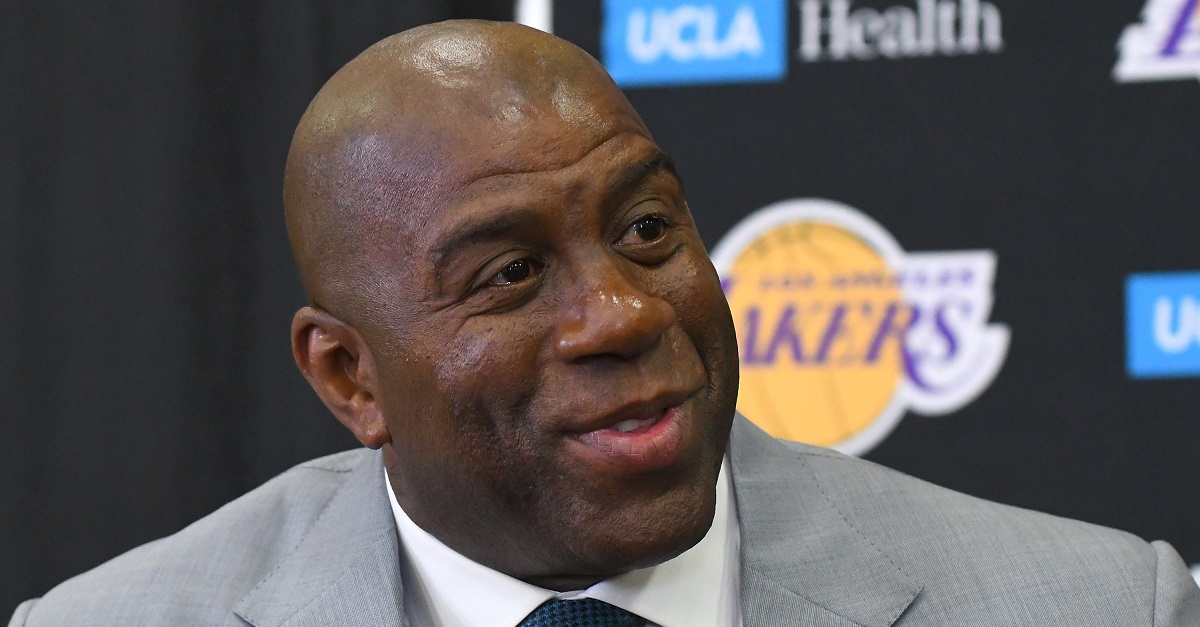 Jayne Kamin-Oncea/Getty Images
LOS ANGELES, CA - JUNE 23: Magic Johnson, president of basketball operations of the Los Angeles Lakers talks to the media during a press conference on June 23, 2017 at the team training faculity in Los Angeles, California. (Photo by Jayne Kamin-Oncea/Getty Images)
Magic Johnson has an important few days ahead as the part-owner of the Los Angeles Dodgers, and the FOX Sports baseball crew had him on before Game 2 of the World Series.
But the crew also wanted to ask Johnson about the upcoming summer for the Los Angeles Lakers since Johnson is a Laker legend and now the team president. David Ortiz asked Johnson about the possibility of the Lakers signing LeBron James this offseason, and Magic tried his best to avoid the question.
Related: Former NBA No. 1 pick promises to show ?no mercy? to rookie Lonzo Ball
"This between you and me, nobody?s watching, nobody needs to know, what is it gonna take to bring LeBron to the Lakers?" Ortiz asked. "I?ll pay the fine! I?ll pay the fine! I?ll pay the fine!"
"I?ll be in trouble!" Johnson said. "I?ll be in trouble! You know, we?re trying to build a championship team with the Lakers and hopefully next summer, we?ll be in line to sign free agents. That?s how you do it!"
The Lakers were fined $500,000 for tampering with Paul George, so Johnson knew he couldn't say too much about the possibility of signing LeBron in the summer of 2018. This likely won't be the last time he's asked about bringing in LeBron or Paul George before next offseason.
(h/t For The Win)