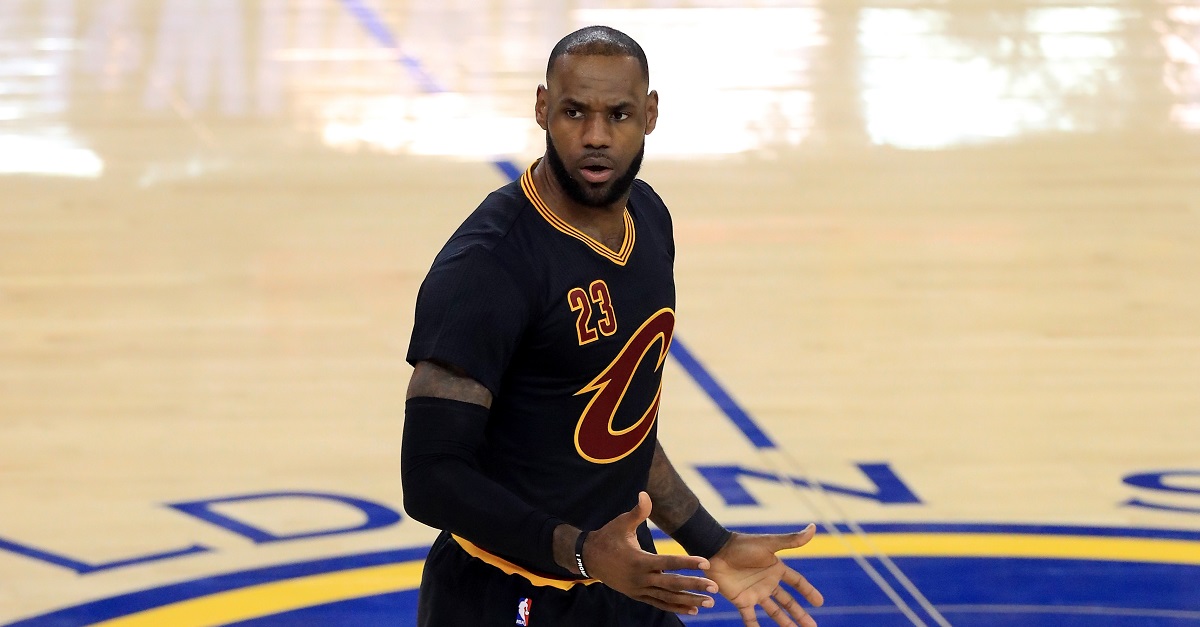 Ronald Martinez/Getty Images
OAKLAND, CA - JUNE 12: LeBron James #23 of the Cleveland Cavaliers reacts after being called for a foul against the Golden State Warriors in Game 5 of the 2017 NBA Finals at ORACLE Arena on June 12, 2017 in Oakland, California. NOTE TO USER: User expressly acknowledges and agrees that, by downloading and or using this photograph, User is consenting to the terms and conditions of the Getty Images License Agreement. (Photo by Ronald Martinez/Getty Images)
The Cleveland Cavaliers are already a mega team, but ESPN NBA insider Marc Spears thinks there's a way to improve. He was on KNBR and suggested that the Cavs should trade away Kevin Love and go after another big man who might make them a bit tougher.
RELATED: Vlade Divac admitted something that makes the DeMarcus Cousins trade look somehow even worse
Here's what Spears said from the interview:
"I could see them doing major and making a big change. If you want to mess with the Warriors, I'd try to dangle Kevin Love to the Pelicans to get (DeMarcus) Cousins. Not that Cousins has always played great against the Warriors, but if you put him in that environment…I think he re-signs to play with LeBron and he gives them something different perhaps mess with the Warriors a little bit."
Cousins has one more year on his contract to take him to the summer of 2018 as a free agent, but if he were to re-sign like Spears suggests then the trade would be more than worth it. They get a big man who can actually post people up and would force teams to double the post and open up space for their shooters, which Tristan Thompson does not do right now.