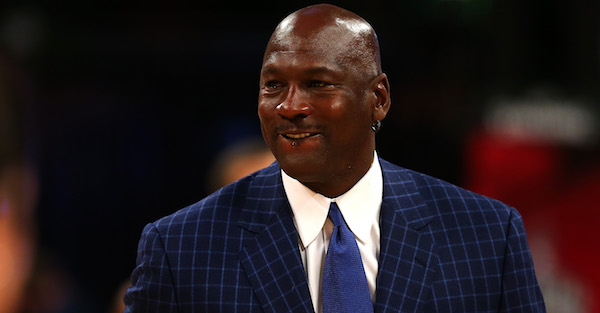 Elsa/Getty Images
TORONTO, ON - FEBRUARY 14: NBA hall of famer and Charlotte Hornets owner Michael Jordan walks off the court during the NBA All-Star Game 2016 at the Air Canada Centre on February 14, 2016 in Toronto, Ontario. NOTE TO USER: User expressly acknowledges and agrees that, by downloading and/or using this Photograph, user is consenting to the terms and conditions of the Getty Images License Agreement. (Photo by Elsa/Getty Images)
Michael Jordan hasn't been shy about expressing his opinion that his era of basketball was better than the current era.
Jordan appeared on the cover of Cigar Aficionado, and he discussed his distaste for the current "super team era" in the NBA.
"I think it's going to hurt the overall aspect of the league from a competitive standpoint. You're going to have one or two teams that are going to be great, and another 28 teams that are going to be garbage. Or they're going to have a tough time surviving in the business environment."
Related: Michael Jordan surprisingly speaks out on Donald Trump's national anthem protest comments
It's always funny to hear Jordan comment on super teams considering how dominant his Chicago Bulls were in the 90's. The Golden State Warriors have been dominant over the last few seasons, and their run has been reminiscent of Chicago's six-title run in the 90s.
The Warriors and Cleveland Cavaliers have arguably been a good bit better than the rest of the league over the last three years, and it looks like it could be more of the same in 2017.
Unrelated to the NBA, Jordan also said he smokes six cigars a day. Six! That's… a bit much. But MJ has always gone above and beyond.
(h/t CBS Sports)