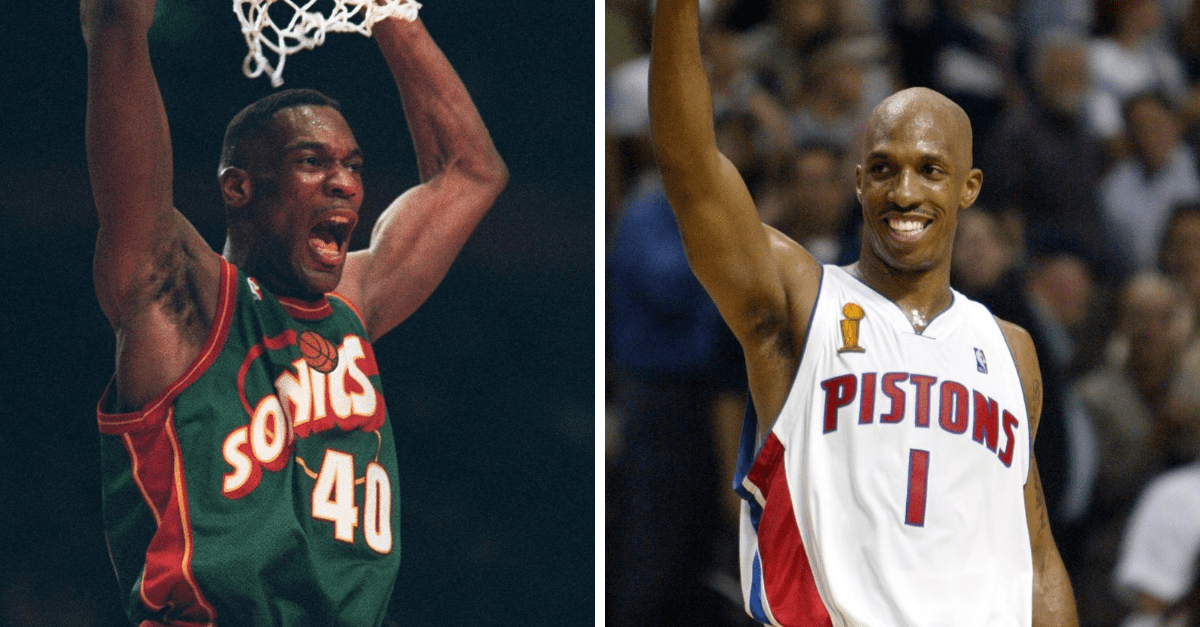 AP Photos/Mark Lennihan (left), Paul Sancya (right)
Springfield, Massachusetts: A place where the beer flows like wine, where the best basketball players ever instinctively flock like the salmon of Capistrano, where the game's best hoopers are immortalized in the Naismith Memorial Basketball Hall of Fame.
Inductees Michael Jordan; Bill Russell; Larry Bird; Magic Johnson; Steve Nash; Charles Barkley; Oscar Robertson; Shaquille O'Neal; Allen Iverson; Gary Payton; Jack Sikma; Jason Kidd; Chris Mullin; Sidney Moncrief; and David Robinson are just some of the game's legends who reside in the Hall. Soon, Kobe Bryant, Tim Duncan, and Kevin Garnett will join the party. LeBron James will, too, when he retires at 50.
While the Hall of Fame houses the greatest NBA careers, All-Star games, MVP award winners, playoff magic, scorers, and NBA titles, there are still some remarkable players waiting for their invitation.
Here are the 10 best NBA players who have yet to become Hall of Famers:
Tim Hardaway (1989-2003)
Position: Point guard

NBA Teams: Golden State Warriors, Miami Heat, Dallas Mavericks, Denver Nuggets, Indiana Pacers
Career stats (per game): 17.7 points, 3.3 rebounds, 8.2 assists
Accolades: Five-time NBA All-Star, All-NBA First Team (1997), Three-time All-NBA Second Team, All-NBA Third Team (1993), NBA All-Rookie First Team (1990)
Position: Power forward/Center
NBA Teams: Golden State Warriors, Washington Bullets/Wizards, Sacramento Kings, Philadelphia 76ers, Detroit Pistons
Career stats (per game): 20.7 points, 9.8 rebounds, 4.2 assists, 1.4 steals, 1.4 blocks
Accolades: Five-time NBA All-Star, All-NBA First Team (2001), Three-time All-NBA Second Team, All-NBA Third Team (2000), NBA Rookie of the Year (1994), NBA All-Rookie First Team (1994), NBA rebounding leader (1999)
Ben Wallace (1996-2012)
Position: Power forward/Center
NBA Teams: Washington Bullets/Wizards, Orlando Magic, Detroit Pistons, Chicago Bulls, Cleveland Cavaliers
Career stats (per game): 5.7 points, 9.6 rebounds, 1.3 assists, 1.3 steals, 2 blocks
Accolades: NBA Champion (2004), Four-time NBA Defensive Player of the Year, Four-time NBA All-Star, Three-time All-NBA Second Team, Two-time All-NBA Third Team, Five-time NBA All-Defensive First Team, NBA All-Defensive Second Team (2007), Two-time NBA rebounding leader, NBA blocks leader (2002)
Kevin Johnson (1988-2000)
?Position: Point guard

NBA Teams: Cleveland Cavaliers, Phoenix Suns
Career stats (per game): 17.9 points, 3.3 rebounds, 9.1 assists, 1.5 steals
Accolades: Three-time NBA All-Star, Four-time All-NBA Second Team, All-NBA Third Team (1992), NBA Most Improved Player (1989)
Shawn Marion (1999-2015)
??Position: Small forward/Power forward

NBA Teams: Phoenix Suns, Miami Heat, Toronto Raptors, Dallas Mavericks, Cleveland Cavaliers
Career stats (per game): 15.2 points, 8.7 rebounds, 1.9 assists
Accolades: NBA Champion (2011), Four-time NBA All-Star, Two-time All-NBA Third Team, NBA All-Rookie 2nd Team (2000), 40,097 minutes played (37th in NBA history)
A.C. Green (1985-2001)
Position: Power forward

NBA Teams: Los Angeles Lakers, Phoenix Suns, Dallas Mavericks, Miami Heat
Career stats (per game): 9.6 points, 7.4 rebounds, 0.8 steals, 28.6 minutes
Accolades: Three-time NBA Champion, NBA All-Star (1990), NBA All-Defensive Second Team (1989), 1,192 consecutive games played (most in league history)
Horace Grant (1987-2004)
Position: Power forward
NBA Teams: Chicago Bulls, Orlando Magic, Seattle SuperSonics, Los Angeles Lakers
Career stats (per game): 11.2 points, 8.1 rebounds, 2.2 assists, 1 block
Accolades: Four-time NBA Champion, NBA All-Star (1994), Four-time NBA All-Defensive Second Team, 3,467 offensive rebounds (18th all-time)
Chauncey Billups (1997-2014)
Position: Point guard/Shooting guard

NBA Teams: Boston Celtics, Toronto Raptors, Denver Nuggets, Minnesota Timberwolves, Detroit Pistons, New York Knicks, Los Angeles Clippers
Career stats (per game): 15.2 points, 2.9 rebounds, 5.4 assists, 1 steal
Accolades: NBA Champion (2004), NBA Finals MVP (2004), Five-time NBA All-Star, All-NBA Second Team (2006), Two-time All-NBA Third Team, Two-time NBA All-Defensive Second Team, J. Walter Kennedy Citizenship Award (2008), NBA Sportsmanship Award (2009), NBA Teammate of the Year (2013)
Shawn Kemp (1989-2003)

Position: Power forward
NBA Teams: Seattle SuperSonics, Cleveland Cavaliers, Portland Trail Blazers, Orlando Magic
Career stats (per game): 14.6 points, 8.4 rebounds, 1.6 assists, 1.2 blocks
Accolades: Six-time NBA All-Star, Three-time All-NBA Second Team
Marques Johnson (1977-90)
Position: Small forward
NBA Teams: Milwaukee Bucks, Los Angeles Clippers, Golden State Warriors
Career stats (per game): 20.1 points, 7 rebounds, 3.6 assists
Accolades: Five-time NBA All-Star, All-NBA First Team (1979), Two-time All-NBA Second Team, NBA All-Rookie First Team (1978)