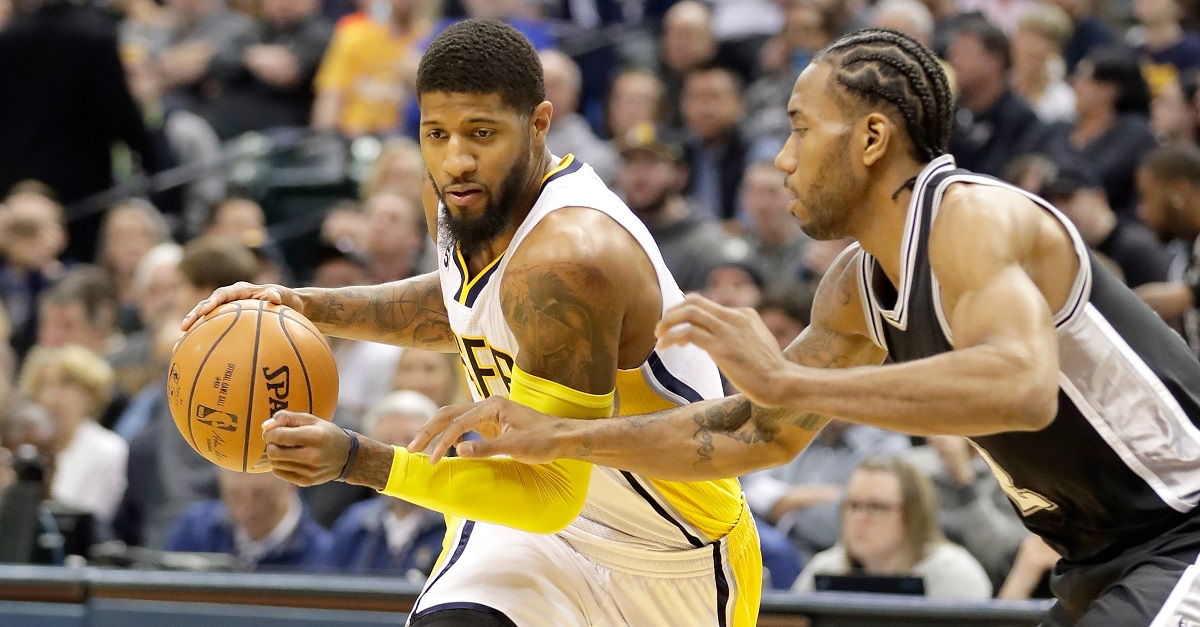 Andy Lyons/Getty Images
INDIANAPOLIS, IN - FEBRUARY 13: Paul George #13 of the Indiana Pacers dribbles the ball against the San Antonio Spurs at Bankers Life Fieldhouse on February 13, 2017 in Indianapolis, Indiana. NOTE TO USER: User expressly acknowledges and agrees that, by downloading and or using this photograph, User is consenting to the terms and conditions of the Getty Images License Agreement (Photo by Andy Lyons/Getty Images)
Of all the NBA players who were rumored to be traded prior to the NBA Draft, Indiana Pacers star Paul George was at the top of the list. George only has one year left on his deal, and he has already made management aware that he is leaving in the summer of 2018.
Related: Four-time All-Star Paul George reportedly has made his intentions for next summer clear to the Pacers
But a deal for George never happened, and now a trade involving him isn't likely to happen until the free agency period begins. Adam Kaufman reported that a deal is in place with the Boston Celtics, but it is contingent on the Celtics signing Gordon Hayward.
According to a piece by ESPN's Zach Lowe from March, George has always wanted to play with Hayward.
"George would love to play with hometown boy Gordon Hayward, according to sources, but that would appear unlikely," Lowe wrote.
So if the Celtics can lure Hayward away from the Utah Jazz, they could possibly strike a deal for George shortly thereafter. The big question would be if the Celtics could get George to sign an extension with the team since George has made it clear he wants to play for the Los Angeles Lakers.
The additions of George and Hayward would immediately make the Celtics a threat to the Cleveland Cavaliers in the Eastern Conference.
If the Celtics continue pushing for a George trade, it could make the Lakers offer something enticing to the Pacers so they wouldn't lose George.
A lot of dominoes need to fall into place, and it appears as if it will all start during free agency at the first of July.