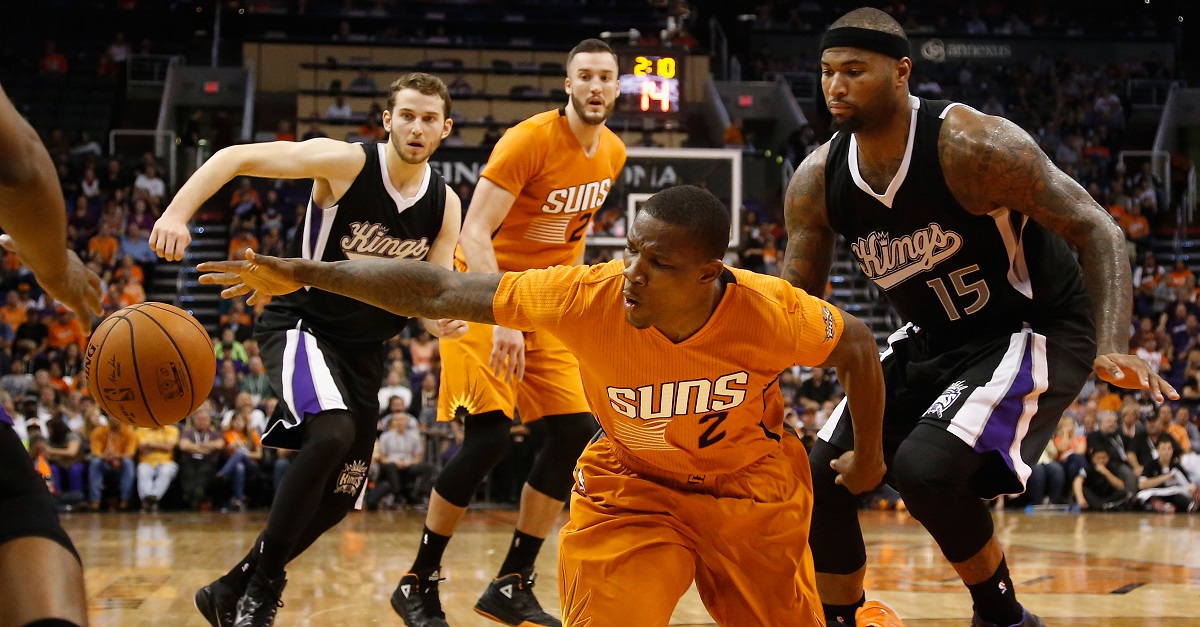 Christian Petersen/Getty Images
PHOENIX, AZ - NOVEMBER 07: Eric Bledsoe #2 of the Phoenix Suns attempts to control a loose ball defended by DeMarcus Cousins #15 of the Sacramento Kings during the second half of the NBA game at US Airways Center on November 7, 2014 in Phoenix, Arizona. The Kings defeated the Suns 114-112 in double overtime. NOTE TO USER: User expressly acknowledges and agrees that, by downloading and or using this photograph, User is consenting to the terms and conditions of the Getty Images License Agreement. (Photo by Christian Petersen/Getty Images)
The Phoenix Suns are reportedly set to trade guard Eric Bledsoe to the Milwaukee Bucks, according to Adrian Wojnarowski and Zach Lowe from ESPN. In the reported deal, the Bucks will send Greg Monroe and a first-round pick to the Suns in exchange for Bledsoe.
The deal figures to solidify the backcourt situation for the Bucks as most believed that was the team's biggest weakness. Bledsoe scored a career-high 21.1 points per game last season with the Suns and averaged 15.7 points in three games this season. He gives the Bucks a proven scorer as the team attempts to solidify its place in the Eastern Conference this season.
By acquiring Monroe, the Suns will be able to clear cap space after this season as Monroe is in the final year of his contract. The team picks up a future first-round pick that figures to help the team continue to rebuild and plan for the future. After picking up the first-round pick from the Bucks, the Suns could have as many as three first-round draft picks in 2018.
Bledsoe first made headlines a few weeks ago after tweeting that he no longer wanted to be with the Suns. Shortly after Bledsoe sent that tweet, the organization opted to fire head coach Earl Watson after dropping its first three games of the season. The team met with Bledsoe after his tweet and decided it was best that he was sent home and was no longer around the team.
As things between Bledsoe and the team reached a point of no return, it was clear that a trade was necessary in order for the two sides to move on. Now, the Bucks pick up a player that can help in a playoff push and the Suns can continue to rebuild.