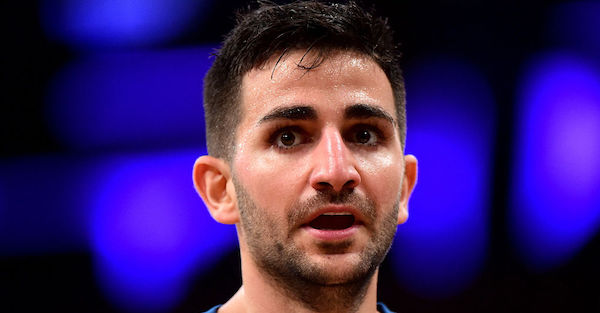 Harry How/Getty Images
LOS ANGELES, CA - OCTOBER 28: Ricky Rubio #9 of the Minnesota Timberwolves reacts as he heads to the bench after a timeout with his team leading the game against the Los Angeles Lakers during the fourth quarter at Staples Center on October 28, 2015 in Los Angeles, California. NOTE TO USER: User expressly acknowledges and agrees that, by downloading and or using this Photograph, user is consenting to the terms and condition of the Getty Images License Agreement. (Photo by Harry How/Getty Images)
The Minnesota Timberwolves might not be done making offseason moves after acquiring all-star Jimmy Butler.
ESPN's Marc Stein reported that the Wolves are trying to trade point guard Ricky Rubio to acquire more perimeter shooting.
Related: 3-time All-Star Jimmy Butler traded in blockbuster NBA Draft deal
Rubio has three years left on his deal, and he will make just over $14 million next season. He will earn just under $15 million in the 2018-19 season.
Even after acquiring Butler, the Wolves would have some flexibility with their cap space if they can move Rubio. Karl-Anthony Towns and Andrew Wiggins are still on rookie contracts, so they could potentially add a top free agent to go along with their three stars.
Rubio averaged 11 points and nine assists per game last season, but he is only a 31.5 percent shooter from 3-point range for his career. He was the No. 5 overall pick of the 2009 NBA Draft when the Wolves famously took two point guards?they took Jonny Flynn at No. 6?before Steph Curry was selected No. 7 overall.
If the Wolves are planning to acquire a point guard who can shoot better than Rubio, they could target free agent George Hill, though Hill will likely seek a max contract.
The Wolves will have options if they can move Rubio or center Nikola Pekovic, but they should be a much improved team next season regardless.