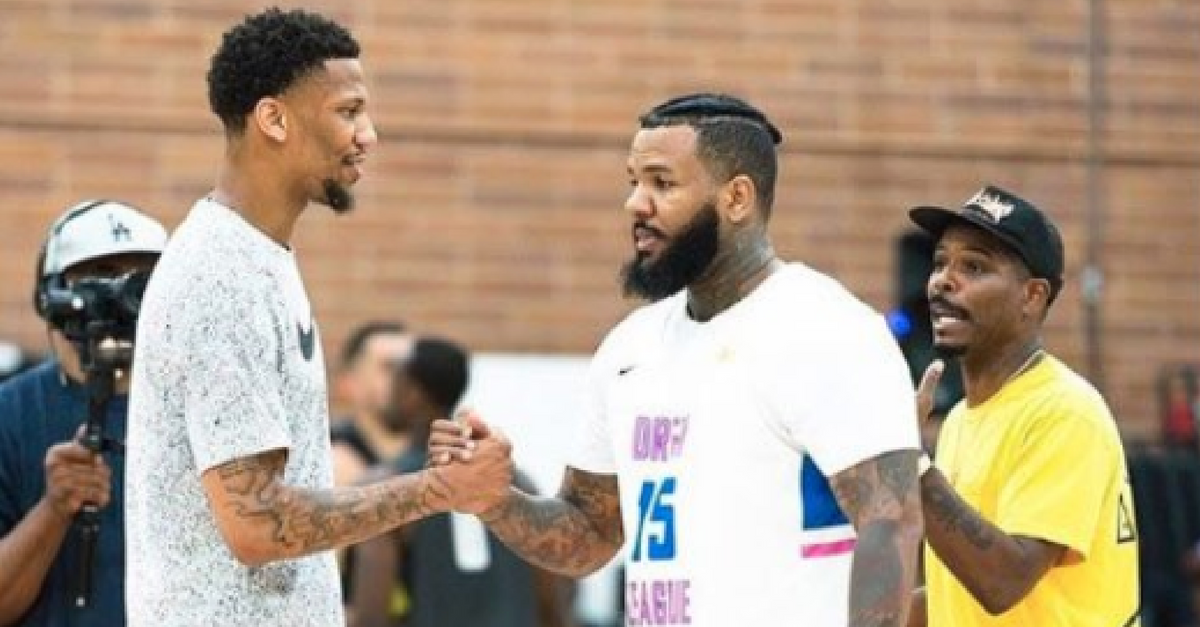 Instagram: @losangelesconfidential
What happens when a rapper with past legal trouble disagrees with someone on the basketball court? Well, we all got that answer during a Drew League playoff game in Southern California over the weekend.
Jayceon Terrell Taylor, famously known as rapper ?The Game? in the mid 2000s, got heated during the playoffs of the famous pro-am summer league and punched 6-foot-10 forward Jarion Henry.
The fact the 38-year-old threw the random punch may not be a surprise to many, but it is shocking that Henry is actually his own teammate on Birdies Revenge.
Let?s see that from a different angle:
The Game had six points with a pair of 3-pointers before the fight, while Henry finished with 16 points, six rebounds and 10 assists.
Both players were ejected from the game.
Unfortunately, Birdies Revenge lost by two points to Redemption. Their title defense is over.
Following the game, The Game posted a lengthy apology on Instagram, which has weirdly been removed.
But since this is the Internet, nothing ever goes away:
?I?ll take the blame & responsibility for [the loss] as well as the events (altercation) that led up to it,? the rapper wrote. ?I?m writing this since apology 1st & foremost to my teammate and lil brother [Henry] for my role in our disagreement that went a lot further than it should?ve.
?I acted out of characterizer & although as brothers for the last 7 years & one of my teammates I definitely consider family? there are always heated moments on the court & in our locker room but it should never get to where it got today? ao again, this is my apology fam.?
What The Game posted was real and genuine, but why it was deleted is strange.
Then again, the whole fight was strange, so it?s almost fitting.
The Drew League is competitive, and often has NBA stars such as James Harden and DeMar DeRozan playing. This is not your typical league by any means.
Hate it or love it, this was definitely not your typical fight on a basketball court, either.