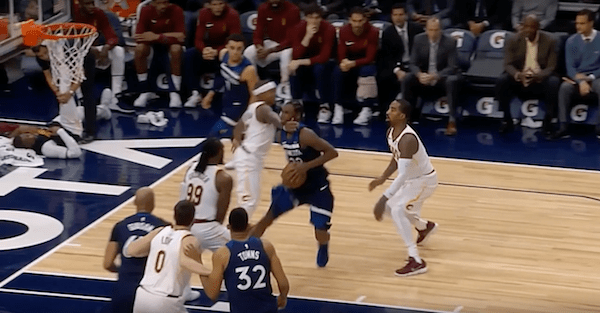 NBAHighlights2/YouTube
NBAHighlights2/YouTube
Isaiah Thomas is back and working himself into the Cleveland Cavaliers' rotation, and he was on the floor as the Cavs were being blown out by the Minnesota Timberwolves.
The Cavs trailed 82-52 in the third quarter when Wolves forward Andrew Wiggins drove to the basket. Wiggins was greeted with karate chop to the throat from Thomas, and Thomas was ejected by the officials.
Related: Paul Pierce has made his feelings known on a potential Isaiah Thomas tribute the night of his Celtics jersey retirement
Thomas was immediately apologetic after the hit, but that did not stop it from being assessed as a Flagrant-2 foul by the officials.
Thomas scored nine points in 19 minutes in the 127-99 loss as the Cavs dropped to 26-14 on the year. Wiggins scored 25 as he got the win over the team who drafted and then traded him.
Thomas is on a minute restriction as he works his way back from a hip injury that sidelined him in the last few games of the playoffs and for the first couple of months of this season.`
Cleveland needs Thomas to return to the way he played last year with the Boston Celtics if they're going to win the NBA title. And they'll need him to karate chop his opponents far less often.