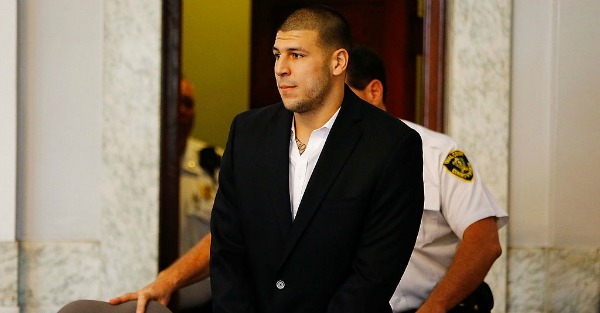 Jared Wickerham/Getty Images
NORTH ATTLEBORO, MA - AUGUST 22: Aaron Hernandez is escorted into the courtroom of the Attleboro District Court for his hearing on August 22, 2013 in North Attleboro, Massachusetts. Former New England Patriot Aaron Hernandez has been indicted on a first-degree murder charge for the death of Odin Lloyd. (Photo by Jared Wickerham/Getty Images)
Aaron Hernandez's attorneys, in conjunction with his former fiancee, have elected to sue the NFL and helmet manufacturer Riddell in conjunction with alleged findings that Hernandez suffered from CTE due to playing football. That lawsuit remains ongoing at this time but, on Thursday, Alanna Durkin Richer of the Associated Press brought word from Dr. Ann McKee of the CTE Center at Boston University with findings that could serve as a bombshell in Hernandez's case.
In short, McKee indicates that Hernandez suffered "substantial damage to several parts of the brain" and that includes the frontal lobe. It is important to note that the report cites McKee as unwilling to say that Hernandez's actions were a direct result of his CTE but, in the same breath, the documented damage to his brain could go a long way toward strengthening his legal case to some degree.
McKee's findings reveal that Hernandez's brain damage could have affected parts of the brain that lead to impulse control, memory and other issues and this will certainly be something to follow in the coming days. Hernandez is far from the first case of CTE to surface on a prominent level but, given the actions that led to his arrest, prosecution and conviction, this is certainly the most high-profile setting to date.