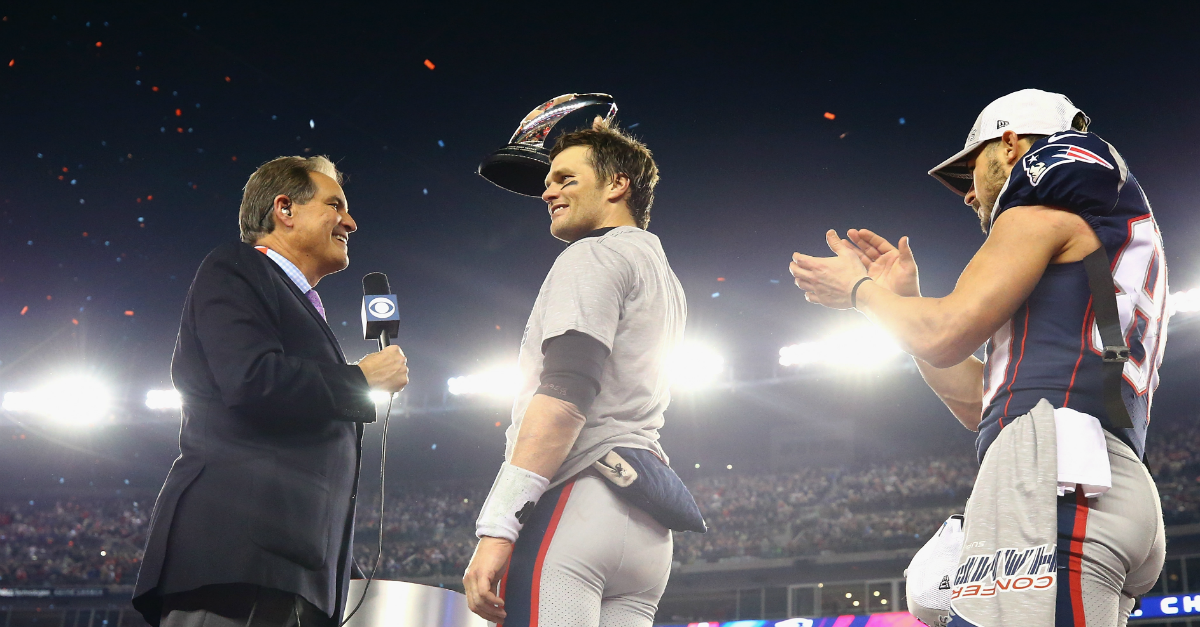 Maddie Meyer/Getty Images
FOXBOROUGH, MA - JANUARY 21: Tom Brady #12 of the New England Patriots holds the Lamar Hunt trophy alongside Danny Amendola #80 as he is interviewed by Jim Nantz after the AFC Championship Game against the Jacksonville Jaguars at Gillette Stadium on January 21, 2018 in Foxborough, Massachusetts. (Photo by Maddie Meyer/Getty Images)
The New England Patriots managed to use the barely healthy hand of Tom Brady to defeat the Jacksonville Jaguars on Sunday. By winning the AFC Championship Game, Bill Belichick and company go to yet another Super Bowl.
With that, naturally, comes crazy excitement from people in the New England area. Unfortunately for one Boston news outlet, the rush to help fans celebrate with a timely recap backfired in the worst possible way.
WCVB-TV Boston unfortunately chose a picture of former Patriots tight end Aaron Hernandez as the social media photo for their recap advertising. The tweet, wisely, has since been deleted, but has been screen grabbed:
That is clearly less than ideal.
Hernandez, who played three seasons for the Patriots, was implicated, investigated or prosecuted for various violent incidents, including involvement concerning multiple gunshot victims. The most famous of which involved the murder of Odin Lloyd.
Hernandez was found guilty of first-degree murder in 2015 and sentenced to serve life in prison without the possibility of parole. Moreover, he was also indicted for the 2012 double homicide of Daniel de Abreu and Safiro Furtado.
Only days after being acquitted from the double homicide, he was found dead in his prison cell. Authorities have ruled the death a suicide.
As for the Boston news outlet, this was likely an honest mistake. Maybe an oversight from a picture generator, with the social media worker not catching it, or something along those lines. There's almost no way that someone found that picture on purpose, then decided to use it.