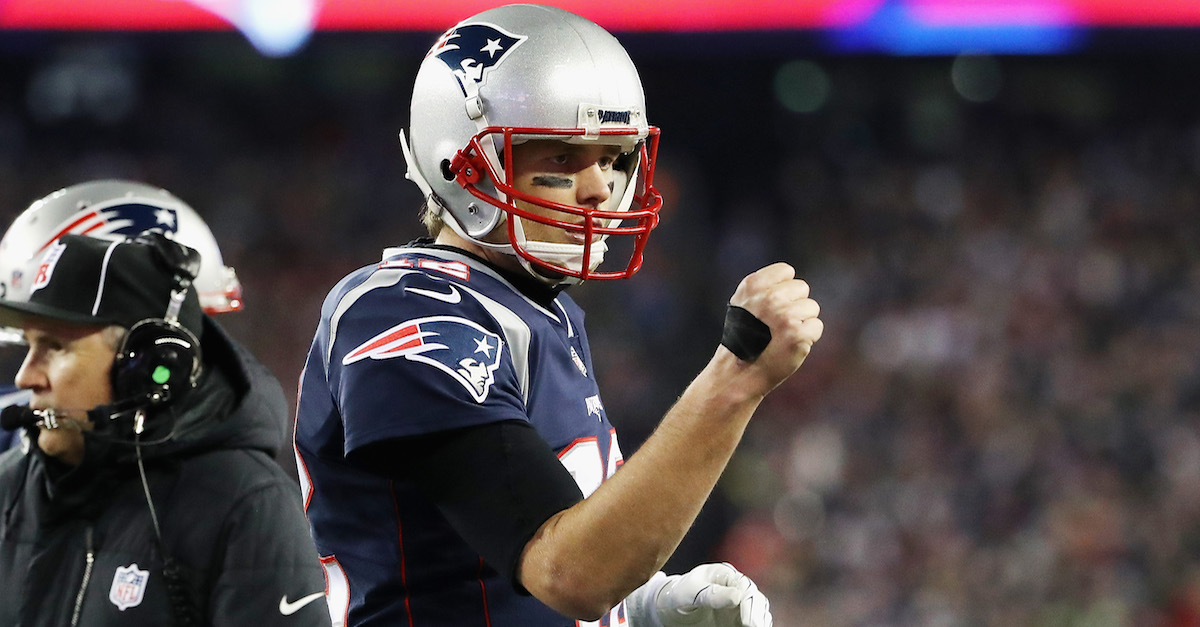 Elsa/Getty Images
FOXBOROUGH, MA - JANUARY 21: Tom Brady #12 of the New England Patriots reacts after a touchdown in the fourth quarter during the AFC Championship Game against the Jacksonville Jaguars at Gillette Stadium on January 21, 2018 in Foxborough, Massachusetts. (Photo by Elsa/Getty Images)
The New England Patriots stormed back from a 20-10 deficit in the fourth quarter to beat the Jacksonville Jaguars, 24-20 to land a trip to Super Bowl LII in Minneapolis, Minnesota.
After New England stormed down the field to take a 3-0 lead, it was all Jacksonville, using punishing drives to earn a 14-3 advantage.
Quarterback Blake Bortles was near-perfect in his first half, while the running back trio of Leonard Fournette, T.J. Yeldon and most notably, Corey Grant really held things together.
Brady and Co. managed to drive down the field before the end of the first half to connect on a field goal and cut the deficit to 14-10. They would lose Rob Gronkowski along the way after taking a nasty helmet-to-helmet shot, pushing him under concussion protocol and out for the game.
Jacksonville would open the second half with a 54-yard field goal to extend their lead, 17-10. Bortles was picture perfect to close the third quarter, driving his team effortlessly down the field to take a 20-10 lead.
Brady would come alive in the fourth, quickly driving down the field for a score, bringing the deficit back down to three, 20-17. The Patriots spread the Jaguars defense, stacking the outside the numbers and looking off Jacksonville's athletic playmakers to make it a game.
Another stop by the Patriots gave them great field position, with Brady and Co. driving right down into the red zone, where the quarterback connected with Danny Amendola for an absolutely gorgeous touchdown.
Bortles would answer, driving with back-to-back first downs on his first two attempts after taking over with 2:48 remaining in the game and three timeouts. A miss to Leonard Fournette and a James Harrison sack wound the clock down to just two minutes remaining as the Jaguars faced a third-and-19.
On a fourth-and-14, Stephon Gilmore shut down Bortles with an unreal deflection:
Needing only one first down to end the game, the Patriots handed off to Dion Lewis on back-to-back plays to force Jacksonville to burn their timeouts. Lewis jetted outside on third down for the first down and the win.