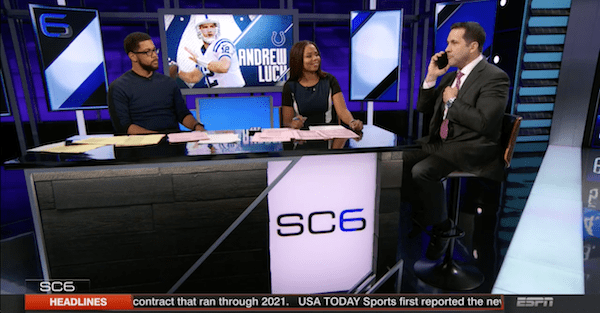 SC6/Screen Shot
There's a running joke at ESPN that Adam Schefter never sleeps, and he's usually the first person to break NFL news.
Schefter made an appearance on SportsCenter to discuss the Indianapolis Colts placing Andrew Luck on injured reserve, and he received a phone call during the segment. In typical Schefter fashion, he asked co-hosts Michael Smith and Jemele Hill if he could take the call, and they sat there in silence for about 20 seconds while Schefter talked to an unknown source.
`
Related: Latest injury diagnosis has NFL Hall of Famer Steve Young ?super worried? about a former No. 1 overall pick
Schefter wouldn't reveal who he was speaking to, and he left the audience and anchors hanging.
If it's something important, he'll probably tweet it at 4 a.m. and break the story. It's not often you see silence on a sports talk show for that long, but you can't expect Adam Schefter to ignore what could be an important phone call.