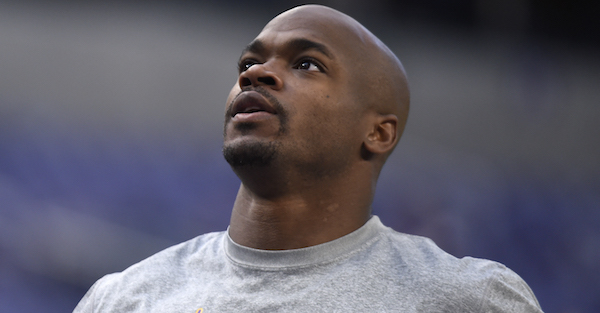 Hannah Foslien/Getty Images
MINNEAPOLIS, MN - DECEMBER 18: Adrian Peterson #28 of the Minnesota Vikings warms up before the game against the Indianapolis Colts on December 18, 2016 at US Bank Stadium in Minneapolis, Minnesota. Peterson returns to play after injuring his knee in week two of the season. (Photo by Hannah Foslien/Getty Images)
Arizona Cardinals running back Adrian Peterson's season is over after injuring his neck, and the future Hall of Famer is headed to the IR for the remainder of the year.
Despite the severity of the neck injury, Peterson said it won't require surgery. The 32-year-old also said in a statement to ESPN's Josina Anderson that he plans to play again in 2018.
Related: NFL first-round pick reportedly hid injury from team
"The good news is my neck injury doesn't require surgery, but I'm told by Dr. Robert Watkins that the best thing for me is just more rest than the length of the season," Peterson said. "Obviously, I'm disappointed about going on IR when my body is still able to produce, but I look forward to returning completely healthy for another season in 2018.
"I'm grateful for the opportunity that the Arizona Cardinals have given me to show that I can still contribute on an NFL team."
Peterson stills wants to play, but it's unclear where he will play next season. The Cardinals could keep him as a backup to star running back David Johnson if they think he still has something left in the tank, but it's unlikely any team will want him as a feature back next season.
Peterson rushed for 529 yards and two touchdowns this season primarily with the Cardinals, though he did spend a few games with the New Orleans Saints. He only averaged 3.4 yards per carry, but he did have two games where he rushed for over 100 yards.
(h/t Pro Football Talk)