Mitchell Layton via Getty Images (left), Brian Garfinkel via Getty Images (right)
The Kansas City Chiefs have become the darlings of the NFL over the past few years. For one, Patrick Mahomes is appointment television and unlike any player we've seen at his position. Secondly, along with his creative offensive scheme, Chiefs head coach Andy Reid is an absolute gem.
Reid is humble, jolly, funny and his players love him. Plus, he's the king of Hawaiian shirts. On top of everything, though, Reid is a family man. He and his wife Tammy have been together for more thann 40 years and share five children together: sons Garrett, Britt and Spencer, and daughters Drew Ann and Crosby.
In 2012, Andy and Tammy endured what no parent should have to go through when their oldest son Garrett tragically passed away.
Andy Reid's Son Garrett's Death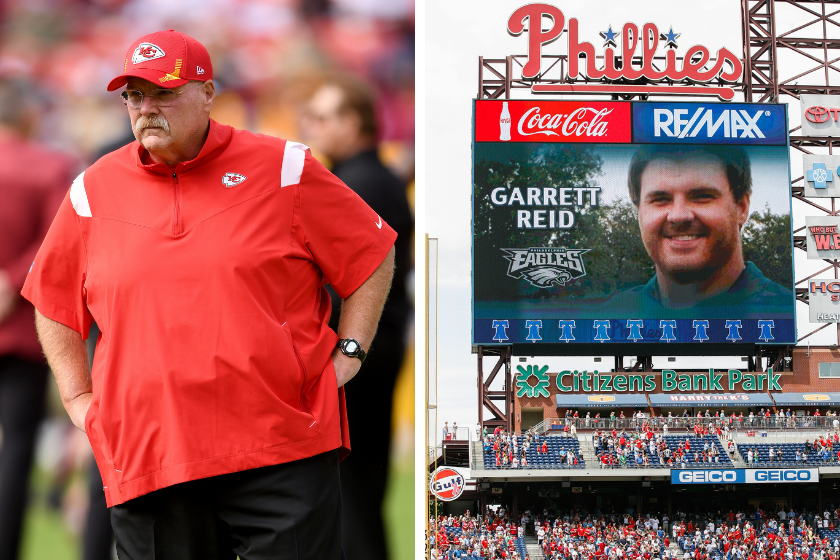 RELATED: Andy Reid & His Wife Have Been Married For More Than 40 Years
Garrett Reid struggled with drug addiction throughout his life. He served time in prison for drug-related offenses and also went to rehab multiple times. Andy stood by his son's side the entire way.
Garrett was arrested in 2007 for being involved in high-speed car crash that injured another driver while on heroin. Ironically, Britt was booked the same day for a road-rage incident, and police found several weapons in drugs in his car. Reid visited them in prison every Thursday for nearly two years, per ESPN.
You can imagine how thrilled Reid was when his sons got back on their feet after being released. For Garrett, that included working on his father's strength and conditioning staff when he was coaching the Philadelphia Eagles.
Tragically, Garrett was found dead in 2012 in a Lehigh University dorm room, where the Eagles were holding their training camp at the time, barely a few weeks into preseason practice. The autopsy revealed the 29-year-old died of a heroin overdose.
"These results sadly confirmed what we had expected all along," the family's statement said, according to ESPN. "We understood that Garrett's long-standing battle with addiction was going to be difficult. He will, however, always have our family's love and respect for the courage he showed in trying to overcome it. In the end, we take comfort in our faith and know that he's in a better place."
All of the Reid children and grandchildren were present to see the Chiefs take down the San Fransisco 49ers in Super Bowl LIV. Tammy made sure to acknowledge Garrett after the monumental win.
Andy Reid's Son Britt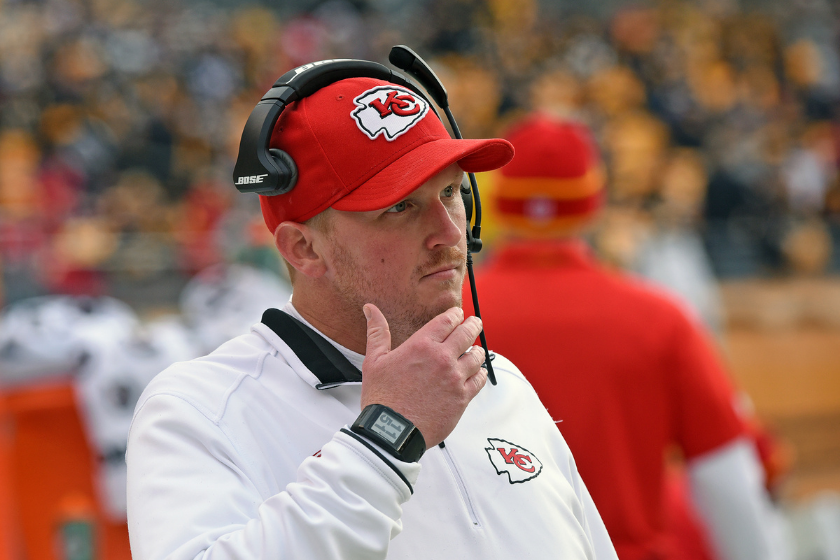 At the time of Garrett's death, Britt was a graduate assistant for Temple University. He later followed his dad to Kansas City when he took the Chiefs job in 2013 and held multiple positions on the staff.
Chiefs assistant coach Britt Reid contributed to the team's recent success, including two AFC titles and a Super Bowl win, but ran into some trouble before KC's Super Bowl LV matchup against the Tampa Bay Buccaneers.
On the Thursday night before the big game, Britt struck two cars on the side of an entrance ramp near the team's practice facility along Interstate 435 while driving at 83 MPH. Kansas City immediately placed Reid on administrative leave, which prevented him from coaching in the Super Bowl down in Tampa, Florida. The outside linebacker coach's contract wasn't renewed following the game.
One of the passengers struck was 5-year old girl Ariel Young, who suffered a traumatic brain injury and was in a coma for 11 days following the accident. In November 2021, the Chiefs and Young's family agreed on a plan to cover Ariel's medical expenses. However, no specific details were released.
Two hours after the car accident, Britt had a blood alcohol content of 0.113 — well above the legal limit of 0.08. He was also found to have Adderall in his system. The Kansas City Police charged Reid with a DWI, which he pleaded not guilty to. His trial is set to begin on April 18, and if he's found guilty, he could face up to seven years in prison, per CBS Sports.
Andy Reid is as admirable as anyone in the NFL. Tragically, he's had to live a parent's worst nightmare.
Related Videos