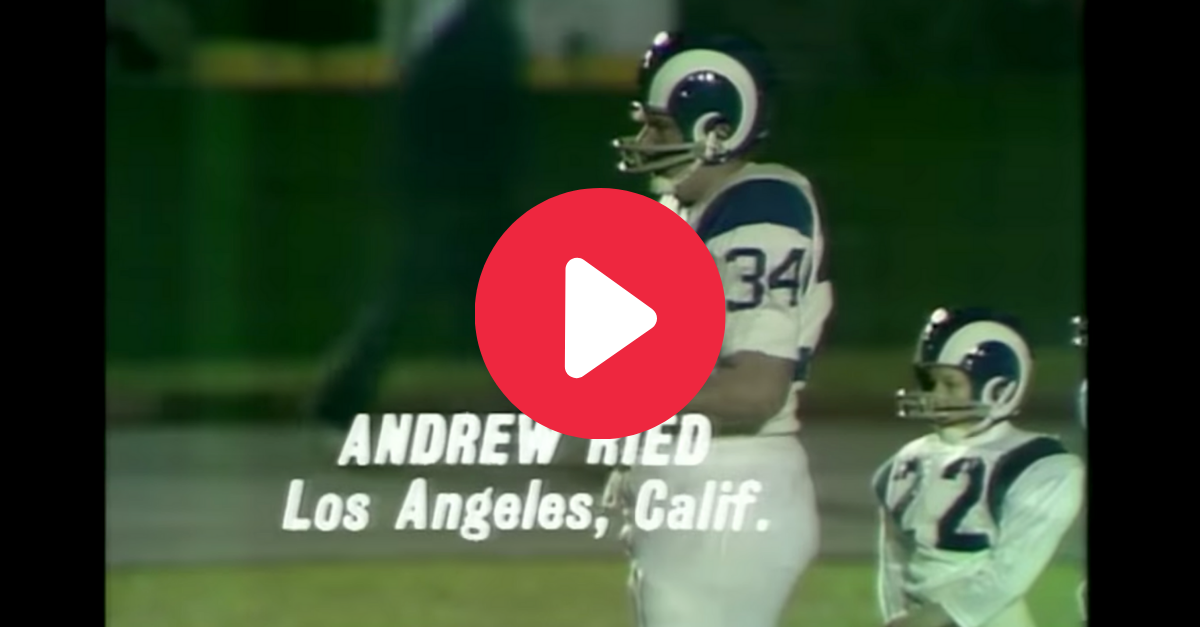 Screenshot from YouTube
Some of sports' greatest achievements are lost over time. At the 1912 Olympic Games, Jim Thorpe won the decathlon while wearing two different shoes he found in the trash. The Florida State Seminoles miraculously reached a bowl game 36 years in a row. The greatest home run in history won LSU the 1996 College World Series, but you likely have never seen it.
Miraculous feats of athleticism deserve our recognition. So without further ado, I present to you the most incredible, unflappable, physically-dominant specimen you will ever lay eyes on: 13-year-old Andy Reid in the 1971 Punt, Pass and Kick competition.
The details behind the fabled clip are muddy. It surfaced during an Eagles-Colts NFL game a few years back, when CBS' Jim Nantz famously laughed that Reid had "a little bit of a size advantage." In an extensive report by Sports Illustrated that tracked down the mystery of Andy Reid on that faithful Monday Night Football halftime show, the legend of Andy Reid gets even more incredible.
Andy Reid Dominates Competition at 13
Growing up in the Los Feliz neighborhood of Los Angeles, Reid was the teammate every kid wanted for their backyard games. I mean, he was a man among boys. One story claims Reid hit a home run out of the Lemon Grove Rec Center that sailed onto The Hollywood Freeway. One of Reid's childhood friends told SI that he had the displeasure of meeting the man-child in a home plate collision.
"I remember colliding into Andy with all of my might, and then bouncing off him like a cartoon," Tony Stewart said. "I gave it all I had, but it was like hitting a wall with my 80-pound frame."
One of Reid's teachers at Thomas Starr King Junior High School claimed Reid stood 6-foot-2 and weighed 220 pounds at 13 years old. Yikes.
Reid was always physically gifted, which led him to the national Punt, Pass and Kick competitions every year. Reid, who went on to be an All-American in junior college before playing offensive tackle at BYU, focused on using his otherworldly childhood body to dominate the kicking game. (One story from his youth claims one of his field goal attempts sailed across the street and broke a church window.) That power carried Reid to win his region and advance to the Southern California finals at the L.A. Coliseum.
During halftime of that 1971 Rams-Redskins game, two finalists from each age group took the field wearing Rams gear. However, a monstrous child named Andy Reid didn't fit into the youth jerseys, so event staff went into the Rams locker room to borrow a jersey from Los Angeles Rams running back Les Josephson, who remember was a grown ass man.
It's unclear if "Andy Ried" ? as the telecast misspelled his name ? actually won that contest. The only evidence of its existence was that 8-second clip of Reid looking like he had a mortgage next to a bunch of children. That, folks, gave us one of the greatest videos in NFL history.
Andy Reid Punt, Pass and Kick Video
RELATED: Patrick Mahomes' Family Genes Created a Superstar QB
Reid went on to an incredible NFL career as head coach of the Philadelphia Eagles and Kansas City Chiefs. He's won several coach of the year awards, captured his first ring in Super Bowl XXXI with the Green Bay Packers, led the Eagles to Super Bowl XXXIX against Tom Brady's New England Patriots, and guided Patrick Mahomes and the Chiefs to Super Bowl LIV against the San Francisco 49ers last NFL season.
Reid is an offensive guru who could land in Canton, Ohio some day, but he will never be forgotten as a 13-year-old Californian who towered over everyone long ago.
Just ask Dan McDowell, a reporter for KTCK in Dallas who honored the legend with a complete Andy Reid punt, pass and kick costume during the Super Bowl opening night festivities in Miami.
Kansas City Chiefs head coach Andy Reid squared off with Kyle Shanahan's NFC Championship winners on February 2, 2020, and won the Super Bowl. However, Reid should've busted out his kicking shoes and let one fly at the memorable football game.
Maybe he's got something drawn up for the 2020 season opener against the Houston Texans.
This post was originally published on January 28, 2020.