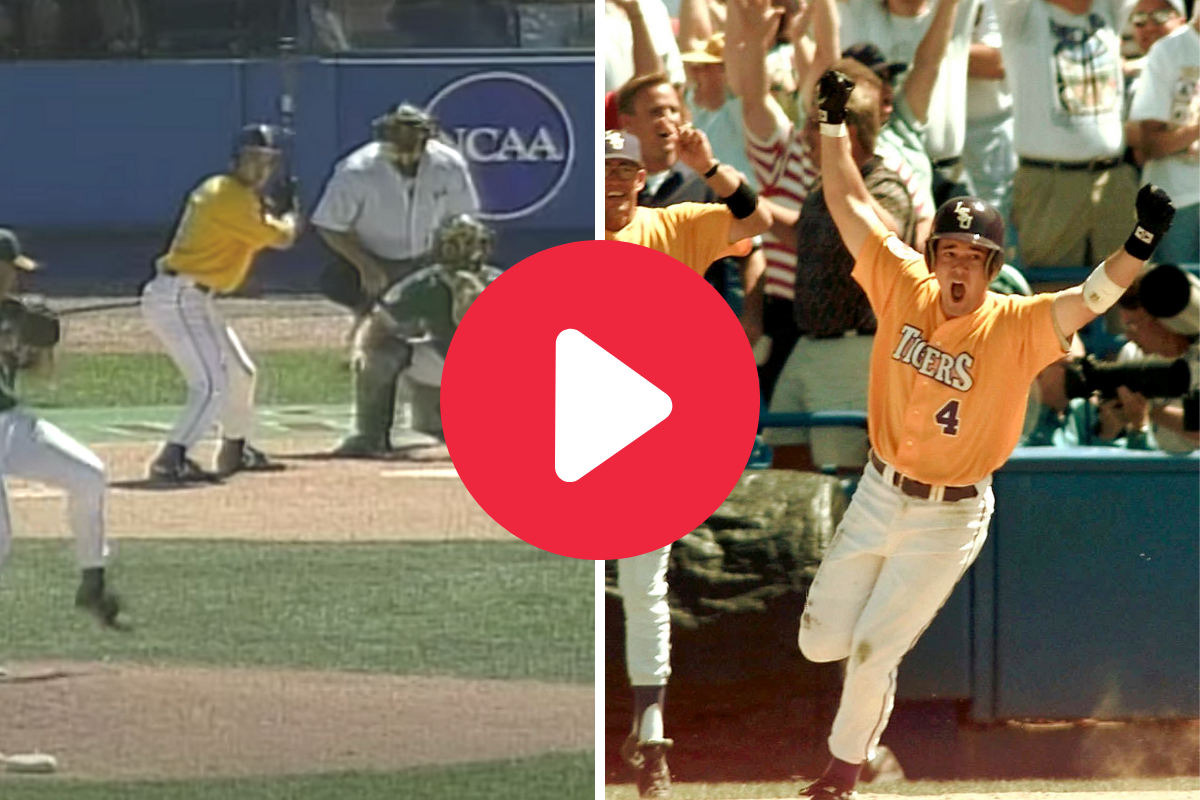 Screenshot from Youtube (left), AP Photo/Rodney White, file (right)
There are plenty of massive home runs hit throughout baseball history. Pittsburgh Pirates hero Bill Mazeroski won the 1960 World Series with a home run that brought New York Yankees' star Mickey Mantle to tears. When Kirk Gibson hobbled to the plate in Game 1 of the 1988 World Series, his game-winning shot created Jack Buck's legendary call, "I do not believe what I just saw!"
Growing up, we all dreamed hitting a championship-winning, walk-off home run with two outs in the bottom of the ninth inning. To this day, there's only one baseball player at either the MLB and college level to actually pull it off. If you don't know him yet, it's time we went back to the 1996 College World Series and introduced you to LSU's Warren Morris.
Warren Morris only started 22 games during the 1996 season (LSU went 22-0 in those contests) as a result of wrist surgery in April. The preseason All-American returned to lead the LSU Tigers in hits throughout the NCAA Tournament as the Tigers advanced to the College World Series for the third time in six years. Still, the junior lost much of his power and hadn't hit a home run all season long.
Before the 1996 title game against the Miami Hurricanes, Morris decided to use a brand new baseball bat as a favor to LSU head coach Skip Bertman's daughter, who was promoting her local batting cage business.
In the bottom of the ninth inning of the championship game in Omaha, LSU trailed 8-7 when Warren Morris stepped to the plate with two outs. On the very first pitch he saw, the Tigers' left-handed leader smacked a ball that sailed over the right field fence for a walk-off home run to win the NCAA National Championship.
It was Morris' only home run of the season. That famous bat now hangs in the LSU Hall of Fame.
Warren Morris' Home Run Wins College World Series
RELATED: Todd Walker?s Clutch Walk-Off Kept LSU?s 1993 Title Dream Alive
When he left Bolton High School in Alexandria, Louisiana, Warren Morris didn't even have an athletic scholarship to play college baseball. Instead, he walked onto the Louisiana State University baseball team in 1993 and redshirted as a freshman. That'll happen when you play behind second baseman Todd Walker, who's arguably the greatest player in LSU baseball history.
In his first full season in 1994, Morris started 63 of 66 games at various positions and earned an honorable mention as a Freshman All-American. After Walker was selected No. 8 overall in the 1994 MLB Draft, Morris became the LSU's starting second baseman in 1995 and continued to build his legacy.
The next year, Morris led LSU in multiple categories and was named second team All-American and second team All-SEC after posting a .369 batting average with eight home runs, 50 RBIs and 18 stolen bases. If that's not enough, he was named LSU's Homecoming King that same year.
In 1996, well, you know the rest.
Warren Morris' Career After LSU
The summer after his game-winning home run, Morris won a bronze medal at the 1996 Summer Olympics playing for the USA Baseball team that featured future MLB talent like Troy Glaus, Kris Benson, R.A. Dickey, Mark Kotsay, and former Houston Astros manager A.J. Hinch.
Morris led that team in batting average (.409) down in Atlanta.
He was drafted in the fifth round of the 1996 Major League Baseball Draft by the Texas Rangers and made his MLB debut in 1999 with the Pittsburgh Pirates, hitting .288 with 15 home runs and 73 RBIs as a rookie. That proved to be his best season, as he'd spend time with the Minnesota Twins and Detroit Tigers, as well as back in the minor leagues, before retiring from the big leagues in 2006.
Regardless of how his pro career turned out, the legend Morris cemented in his last game at LSU lives on to this day.
Now, Morris lives in Alexandria, Louisiana. The 47-year-old is an assistant vice president at Red River Bank, where he helps customers receive loans and mortgages. LSU fans still recognize him to this day.
?It?s kind of incredible now,? he told USA Baseball in 2015. ?We?re almost 20 years removed from it, but it still lives on. I?ve been so blessed.?
In 2018, LSU baseball alum Alex Bregman made a bet with then-Boston Red Sox manager Alex Cora. If LSU defeated Miami on the football field, which they did, Cora had to wear an LSU jersey as part of the bet. (Scroll back up to Morris' walk-off video. Cora is the Miami player wearing No. 13 who's laying on the ground in utter defeat.)
Fittingly, Bregman chose Warren Morris' LSU jersey for Cora to wear.
Heroes get remembered, but legends never die. No matter where you're from, it's impossible to deny that Warren Morris' walk-off home run in the CWS is still one of the greatest moments in baseball history.
This article was originally published April 4, 2019.