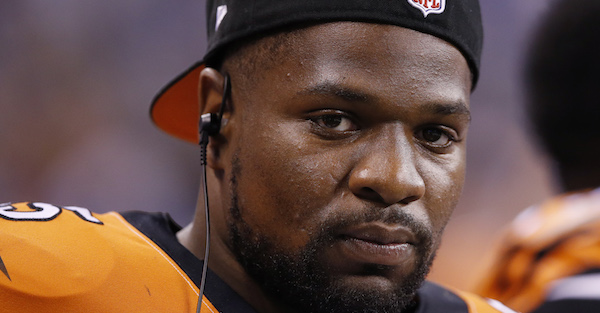 Joe Robbins/Getty Images
INDIANAPOLIS, IN - AUGUST 31: Vontaze Burfict #55 of the Cincinnati Bengals looks on from the sideline in the second half of a preseason game against the Indianapolis Colts at Lucas Oil Stadium on August 31, 2017 in Indianapolis, Indiana. (Photo by Joe Robbins/Getty Images)
Vontaze Burfict has seen his name in the headlines before. And he knows exactly why it ends up there game after game, after game.
Burfict, to put it lightly, is not afraid to get physical on the gridiron. When he steps out onto the field, he's not looking to rack up tackles. No, the Cincinnati Bengals linebacker looks to intimidate and lay the wood to any ball carrier who enters his vicinity.
That's part of what makes him such a great linebacker — his physicality and unapologetic nature. But you know what, it also comes with some negative publicity, some yellow flags thrown in his direction, and a whole lot of fines handed down from the NFL.
It's completely fair to say that Burfict is one of the NFL's most controversial players. But maybe the target on his back isn't all his doing.
In a 24-20 loss to the Tennessee Titans on Sunday, Burfict was ejected for making contact with an official, which was the first time he had been ejected from a game in his entire six-year career.
However, an anonymous Cincinnati player told ESPN's Adam Schefter that referees have cursed at Burfict and initiated contact with the Bengals linebacker in the past few weeks. According to the anonymous teammate, Burfict feels as though he's being singled out by the referees in an unfair manner.
The NFL has disputed the claim and believes Burfict is being treated no differently than any other player.
But is it really that crazy? We live in a world where opinions are formed quickly and rarely ever change despite further action.
The referees are also humans. Humans have flaws and react irrationally at times. Plus, it's not like it's uncharacteristic for a referee in a major sports league to do something — oh, I don't know — wrong (see: Tim Donaghy).
[h/t Sports Illustrated]