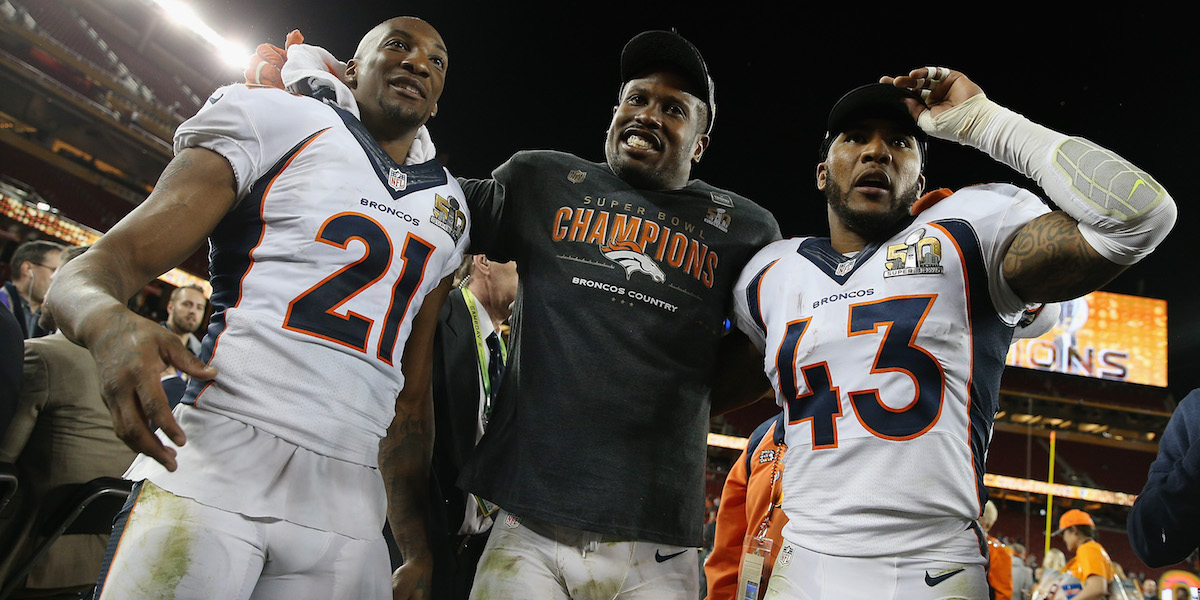 Patrick Smith/Getty Images
SANTA CLARA, CA - FEBRUARY 07: Aqib Talib #21, Von Miller #58 and T.J. Ward #43 of the Denver Broncos celebrate after defeating the Carolina Panthers during Super Bowl 50 at Levi's Stadium on February 7, 2016 in Santa Clara, California. (Photo by Patrick Smith/Getty Images)
The Denver Broncos are reportedly expected to cut cornerback Aqib Talib if they are unable to trade him by next season, according to Jeff Legwold of ESPN.
Talib, a five-time Pro Bowl player, will be 32 next month and the Broncos may not be looking to pay him a salary of $11 million next season as they appear to be in a rebuilding phase. The team reportedly put Talib on the trading block last week and it appears as though they may have to cut him if they are unsuccessful in trading him.
Talib has been a standout on defense for quite some time now and could be a huge addition to another team in need of help in the secondary. While he was named a Pro Bowler this season, he has had his share of incidents on and off of the field that may prevent teams from trading for him. He was suspended for two games this season after fighting Oakland Raiders wide receiver Michael Crabtree.
While teams may not want to pay Talib the $11 million owed to him next season, he could gain interest should he become a free agent and be signed to a cheaper contract. If they believe he can keep it together, he could be a huge addition to a team's defense.