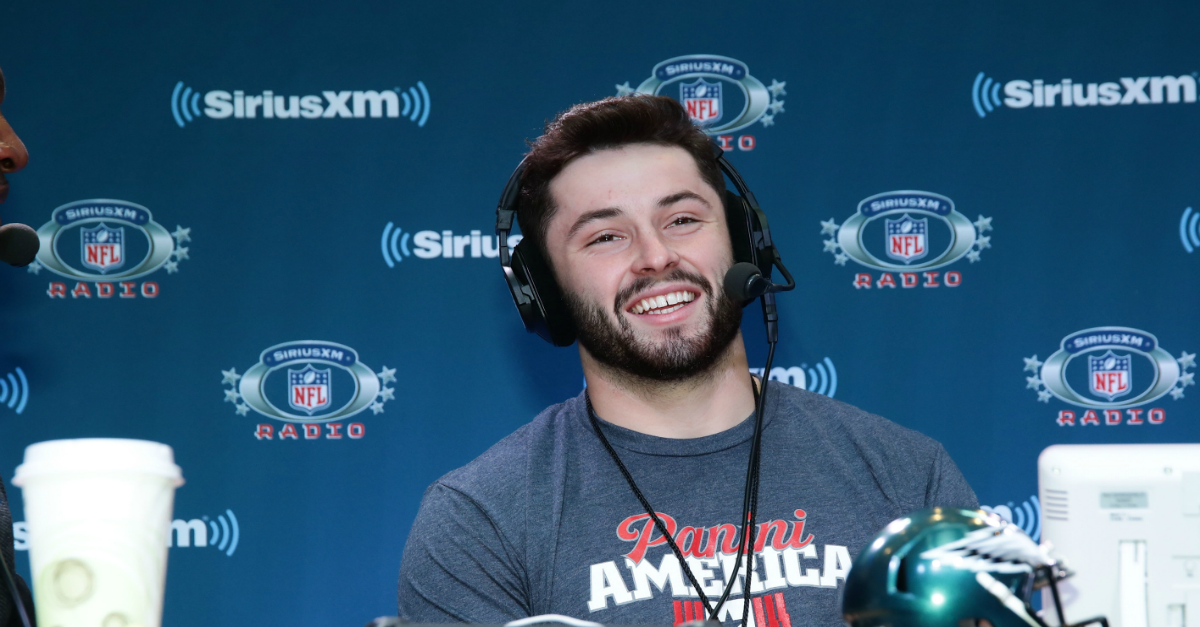 Cindy Ord/Getty Images for SiriusXM
MINNEAPOLIS, MN - FEBRUARY 02: Collegiate football player Baker Mayfield of the Oklahoma Sooners attends SiriusXM at Super Bowl LII Radio Row at the Mall of America on February 2, 2018 in Bloomington, Minnesota. (Photo by Cindy Ord/Getty Images for SiriusXM)
In an attempt to stop comparisons between the two, Baker Mayfield admitted Johnny Manziel has more natural talent.
Fear not, Oklahoma Sooners fans. There's context to be added here.
"We're two completely different people," Mayfield said. "I've always been a team-oriented guy. Not saying that Johnny wasn't, but I've quickly earned the respect of my teammates because of how I worked."
Starts off solid enough, but here comes the part about the talent.
"I wasn't given the natural talent that Johnny had. Because he's a talent. And there's a reason he got taken in the first round, amazing player. We're just not the same mentally. Just wired differently."
People might look at that and believe Mayfield is stating he's in a poor position to be a great QB in the NFL. That's not the point he is making.
History has proven, time and time again, that natural talent doesn't inherently equate to greatness in the pros. Furthermore, that a lack of natural gifts might limit a player to a degree, but wouldn't stunt him from becoming a good NFL gunslinger.
Basically, there's a billion variables that makes a good NFL QB and no one has any idea how to crack the evaluation code in a way that doesn't result in useless signal-callers trotting about fields all over the league.
Mayfield is projected to go in the first-round of the upcoming NFL Draft. Most people who try to connect to him to Manziel do so because they are both charismatic characters. Outside of that, there's really not much else to compare.
Then again, a nation holds its breath to see if Bill Polian thinks he should change his position.
(H/T ESPN)