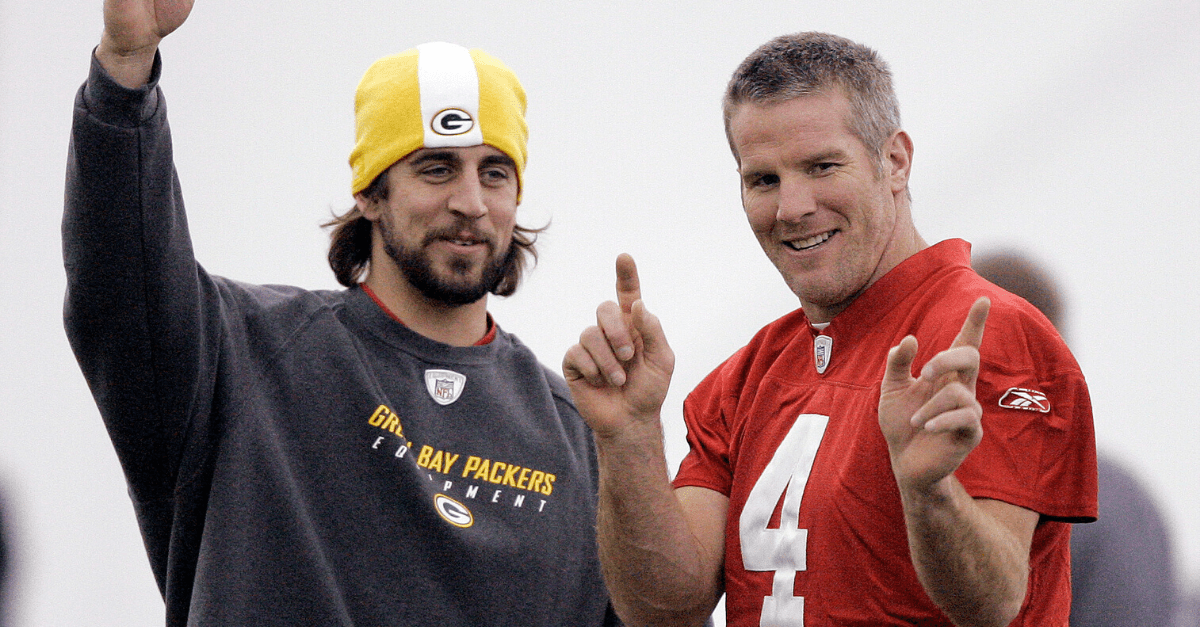 AP Photo/Morry Gash, File
Perhaps the most storied franchise in the history of the National Football League, the Green Bay Packers also churned out some of the best quarterbacks to ever play in the game as well.
Since 1921, the Packers have called Green Bay, Wisconsin home. The Packers franchise will play its 100th season in 2020 and have had some great players under center, but who is the best to play quarterback while wearing the green and gold?
The part that makes choosing the top quarterbacks for Green Bay difficult is they are not just franchise-changing players, but some of the best quarterbacks in league history. These were players who carried the team to NFC Championships, Super Bowls, NFL Championships, and made numerous Pro Bowls, but only six made this list of the greatest to ever do it at Lambeau Field.
Green Bay Packers Greatest Quarterbacks
6. Don Majkowski
The quarterback known as the Majik Man spent six seasons in Green Bay, passing for 10,870 yards, 56 touchdowns, and 56 interceptions in 68 games. By the end of his time as a Packer, he worked his way up to fourth in career passing yards in franchise history.
Maybe the most notable thing about Majkowski is who took over for him. In week three of the 1992 season, he was injured, which allowed Brett Favre his chance to enter the game for the first time as the quarterback for Green Bay.
5. Lynn Dickey
After spending the first four seasons of his career with the Houston Oilers, Lynn Dickey moved on to Green Bay, spending nine seasons with the Packers. During those nine seasons, he started 101 games and threw for 21,369 yards, 133 touchdowns, and 151 interceptions.
Though he did throw a lot of picks (which seems like a theme among Green Bay quarterbacks), Dickey spent a lot of time with the team and is still fourth all-time in passing yardage. When he retired, he was behind only one other player in team history. Dickey is still one of only five QBs in history to average at least nine yards per attempt in a season with at least 400 attempts. The others are Dan Marino, Peyton Manning, Matt Ryan, and another Packer on this list…
4. Matt Flynn
He may not have a lot of games with the Packers or crazy statistics, but when Matt Flynn started for Green Bay, he performed. Most notable was during a Week 17 game against an NFC North rival, the Detroit Lions, when he threw for 480 yards and six touchdown passes. Another great performance was when he led a comeback against the Dallas Cowboys the following season and passed for 299 yards and four touchdowns.
In six seasons with the Packers, Flynn only started six games, but averaged 276.5 yards, 2.5 touchdowns, and one interception in those games. He definitely had flashes of brilliance and was an awesome backup with loads of potential.
3. Bart Starr
This is where the list gets interesting. There are obviously three players who are far-and-away the best in franchise history. Though he may have been first, I don't think Bart Starr was the best. He is obviously great and a Hall-of-Fame quarterback, but unfortunately has two of the top 10 in league history are ahead of him.
In 16 NFL seasons ? all with Green Bay ? Starr set the mark for all Packers quarterbacks to follow him with 24,718 passing yards, 152 touchdowns, and 138 interceptions. Maybe his best number was leading his team to five league title games in seven seasons, including victories in Super Bowl I and Super Bowl II.
Starr still ranks third in most passing statistics, but also played in an era when passing the ball was less common. In 15 less games, Aaron Rodgers has almost twice as many pass attempts as Starr did throughout his entire career. Starr also benefitted from arguably the greatest head coach in sports history, one Vince Lombardi.
2. Aaron Rodgers
Aaron Rodgers had one of the most difficult jobs in professional sports when he took over as the starting quarterback in 2008. Watching Brett Favre lead Green Bay the first three seasons being selected in the first round of the NFL Draft, Rodgers had gigantic shoes to fill.
Through 15 seasons in the NFL, Rodgers ranks second in most passing statistics behind his predecessor. He was selected to eight Pro Bowls and was named First-Team All-Pro twice. In 2010, Rodgers led the team to the Super Bowl and a win over the Pittsburgh Steelers.
Rodgers was named the NFL Most Valuable Player in 2011 and 2014 while also leading his team to the postseason in all but three seasons ? The first missed playoff appearance was his first as a starter, and the second was when he played only seven games during the regular season.
After beating the Seattle Seahawks in the 2019 Divisional Round, Rodgers had a chance to bring his team back the Super Bowl and face the AFC Champion Kansas City Chiefs, but watched the Packers defense get torched by San Francisco 49ers and running back Raheem Mostert.
With a few more seasons of good stats, and maybe another Super Bowl ring, Rodgers could possibly move into the top spot on this list, but there is still one guy who I will always think of first among Green Bay Packers quarterbacks, and he didn't wear the No. 12 ? He wore a big four on his chest, right on top of his Superman costume.
1. Brett Favre
For most of my childhood, Brett Favre was my favorite player in the NFL to watch because you could tell he loved playing the game. Not only was he enjoying himself, he was damn good, too. He is by far the top statistical player in franchise history, both good and bad.
For as many plays that won the Packers a game, Favre had many that cost them. He did lead his team to a Super Bowl win in 1996 against the New England Patriots, as well as a Super Bowl loss to the Denver Broncos in 1997. He, like Rodgers, also had two losses in the NFC Championship Game and fell just short of two extra trips to The Big Game.
During his 16 seasons in Wisconsin, after one with the Atlanta Falcons, he not only torched every franchise passing record, he also did the same with league records for a passer, though they were later topped by guys like Peyton Manning, Drew Brees and Tom Brady. Favre also won the NFL Most Valuable Player award three-straight seasons, sharing his last MVP with Barry Sanders in 1997.
Even though Favre threw 200 more interceptions than Rodgers has, that is what made him the ultimate gun slinger. If you could just erase half of them, there is a good chance we are looking at Favre wearing a few more Super Bowl rings, but those risks defined who he was as a player and what made him so great, yet so frustrating.
In his 16 seasons with the team, they missed the playoffs just three times and finished with a losing record only once. Nine of his Pro Bowl selections came as a Packer while all three of his selections as First-Team All-Pro were while playing in Lambeau as well.
The worst thing for Favre's legacy in Green Bay, other than his crazy amount of interceptions, was the fact he ended his career with the Minnesota Vikings. Leaving one of the franchise's biggest rivals didn't help his popularity in cheese country.