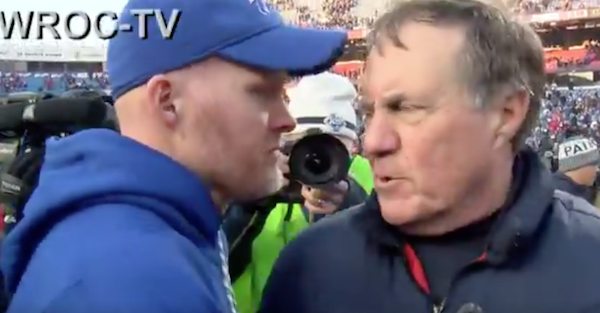 @PrescottRossi/Twitter
New England Patriots tight end Rob Gronkowski took an unnecessary cheap shot on a downed Buffalo Bills player, Tre?Davious White, after a Tom Brady interception. After the game, in a midfield meeting with Sean McDermott, Patriots head coach Bill Belichick apologized and called the play "bullshit."
Gronkowski was not ejected from the game, but he could face punishment from the league.
After the game, Gronkowski apologized for the hit:
?I?m not in the business of that. There was a lot of frustration, and I was just really frustrated at that moment,? Gronkowski said. ?It just happened naturally through emotions and frustration, and I just want to apologize to Tre?Davious White.?
Brady also had to let out his frustrations in the team?s 23-3 win over the Bills, yet his was in the sense of hurting feelings, not someone's physical well-being.