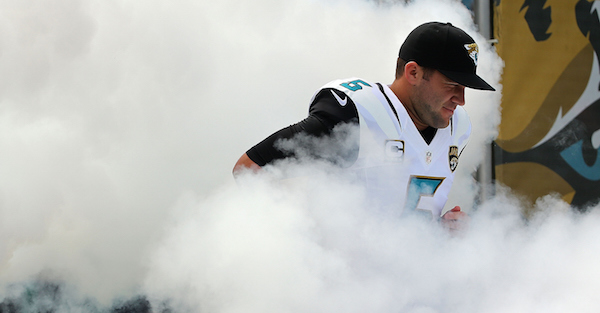 Mike Ehrmann/Getty Images
JACKSONVILLE, FL - SEPTEMBER 13: Blake Bortles #5 of the Jacksonville Jaguars takes the field during a game against the Carolina Panthers at EverBank Field on September 13, 2015 in Jacksonville, Florida. (Photo by Mike Ehrmann/Getty Images)
Doug Marrone does not have an easy job. That's putting it lightly.
The Jacksonville Jaguars head coach is in his first full season with the gig and is already facing a tough decision. Which quarterback does he name as the starter, Blake Bortles or Chad Henne?
Maybe the answer is neither. Maybe second-year quarterback Brandon Allen is the answer ? though that's highly unlikely.
But if the man under center in Week 1 isn't a former No. 3 overall draft pick, it could mean trouble … for Bortles, that is.
Former NFL quarterback and current Bleacher Report analyst Chris Simms believes Bortles' NFL career will be over if Jacksonville decides to part ways with him.
"If he gets cut by the Jaguars, he will never play in the NFL again," Simms said.
Bortles completed 12-of-16 passes for 125 yards, a touchdown and an interception in the Jaguars' 24-23 loss to Carolina on Thursday. But his struggles from the pocket have been well documented.
Shad Khan, who owns Jacksonville, has already stated publicly that he'd be willing to sign Colin Kaepernick ? providing his football operations staff recommended it.
Now, there isn't a closing window for the Jaguars. They do have some time to figure things out. They're filled with young, talented players like Jalen Ramsey, Leonard Fournette, and Dante Fowler Jr.
But the sooner they figure out their quarterback situation, the sooner they can focus on winning some games.
It's just easier said than done.