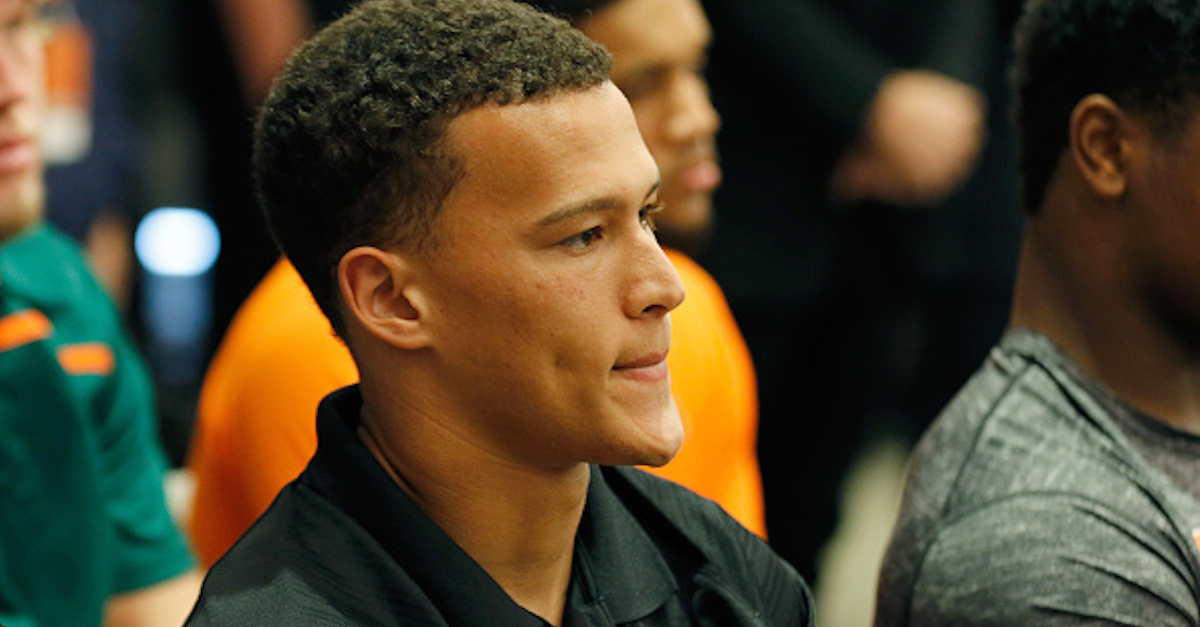 Joe Skipper/Getty Images
CORAL GABLES, FL - DECEMBER 04: University of Miami Hurricanes quarterback Brad Kaaya listens to new head football coach Mark Richt after he was introduced at a press conference at the school on December 4, 2015 in Coral Gables, Florida. (Photo by Joe Skipper/Getty Images)
In a move that is surprising considering the player's potential, Adam Schefter is reporting that the Detroit Lions have released quarterback Brad Kaaya.
The fact that Kaaya isn't "the guy" in Detroit isn't the shocking part of this news. The Lions just spent a ton of money on Matthew Stafford and he's clearly been one of their top players since being drafted No. 1 overall in 2009. Stafford has never been in jeopardy of losing his starting job, and if that was ever in question his most recent contract should put those thoughts to rest.
With that said, Kaaya was an interesting pick for the Lions not just because of his potential for their squad, but perhaps more importantly, his potential on the trade block. We just saw how the New England Patriots leveraged backup quarterback Jacoby Brissett into a nice trade and in Kaaya, the Lions may have had that same type of player.
Would he ever bring back a first round pick in a trade? Probably not. But could he have been used as decent trade bait if the Lions showcased him from time to time? It's certainly possible.
The Lions obviously saw something in Kaaya that made them draft him with a sixth round pick in this past NFL draft, and for what it's worth, scouting reports on him coming out of Miami were positive. In fact, a mock draft from Chris Burke of Sports Illustrated actually had Kaaya going No. 1 overall to the Browns back in May of 2016.
Here's what Burke said at the time. This was written before the 2016 season, mind you.
"There is no question that Deshaun Watson will be a Heisman favorite this season, off his brilliant 2015. There?s also little question that, on paper, Kaaya?who is 6′ 4″ and plays in a pro-style scheme?better fits the NFL prototype."
Kaaya went on to throw for 3,532 yards and 27 touchdowns compared to seven interceptions for Miami. Detroit went on to draft him in the sixth round, but now he finds himself out of a job.
From potential No. 1 overall pick to the scrap heap. Welcome to the NFL, kid.