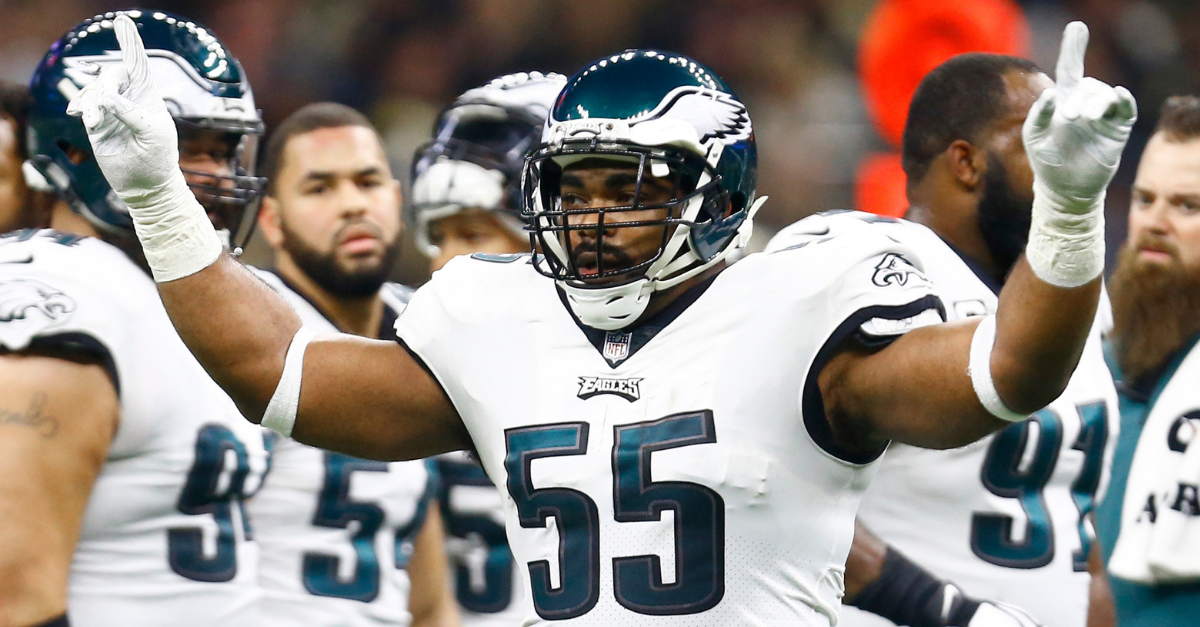 AP Photo/Butch Dill
The Philadelphia Eagles are moving forward without quarterback Nick Foles, but the franchise isn?t ready to see one of its best defensive players go anytime soon. In fact, the NFC East power has opened up the wallet to make sure he doesn?t test free agency.
On Friday morning, the Eagles and defensive end Brandon Graham agreed to a three-year contract extension worth $40 million to keep the 6-foot-2, 265-pound fierce pass rusher in the City of Brotherly Love.
This, of course, makes the 30-year-old Graham happy because his new deal will make him over $13 million per year, but it also thrilled his family, especially his young daughter Emerson. So he decided to announce his return to Philadelphia in the cutest way on Instagram.
RELATED: Nick Foles is Now a Free Bird, But Where Could This Eagle Land?
A Detroit, Michigan native and former Michigan Wolverines star, Graham has been a model of consistency on the field since he was selected in the first round ? No. 13 overall ? in the 2010 NFL Draft, but he?s also one of the good guys you can?t help but root for off the field, too.
?I just to thank my family, friends, and all the fans for the love and support. I am so happy to be back with the Eagles. Can?t wait to get back to work. Thank you lord for it all.?

? Philadelphia Eagles Defensive End Brandon Graham
After his All-American career at Michigan, where he won the Big Ten Most Valuable Player award in 2009, Graham has recorded 316 tackles, including 42.5 sacks, with 17 forced fumbles four fumble recoveries, seven pass deflections and one defensive touchdown for the Eagles.
Now, he is an Eagle for life and will likely remain in Philadelphia through the end of his career, where he was a Second-Team All-Pro in 2016 and helped the organization win Super Bowl LII over Tom Brady and the New England Patriots.
While most players post pictures of themselves to announce their decision, Graham decided to let his daughter do the talking and singing ?Fly Eagles Fly? to show just how happy the family is to stay where is NFL career all began in Philly with a three-year extension and not become a free agent in the open market.
Eagles fans have to be pretty happy with Howie Roseman after this move, too.