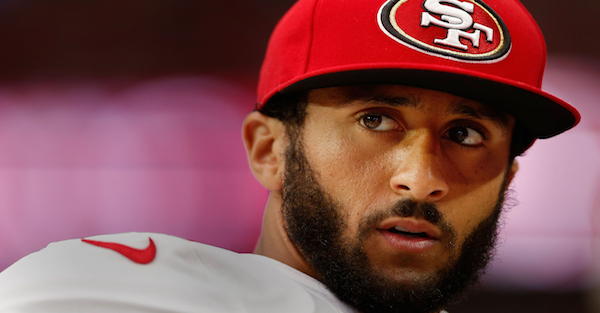 Christian Petersen/Getty Images
GLENDALE, AZ - SEPTEMBER 27: Quarterback Colin Kaepernick #7 of the San Francisco 49ers watches from the sidelines during the NFL game against the Arizona Cardinals at the University of Phoenix Stadium on September 27, 2015 in Glendale, Arizona. The Carindals defeated the 49ers 47-7. (Photo by Christian Petersen/Getty Images)
Colin Kaepernick still doesn't have a job in the NFL and at this point, it doesn't seem likely that he'll play this season.
Of course, a major injury to a starter or even an injury to an important backup could change things quickly for Kaepernick, but as of right now it seems as if the NFL has moved on.
Whether or not that fact is fair or not is the subject of a national debate, but it doesn't make Kaepernick's free agency any less of a reality.
Speaking of reality, one of Kaepernick's former Nevada teammates, Brandon Marshall, gave a pretty harsh and honest response when speaking about Kaepernick with FS1 shock jock Colin Cowherd.
When asked if has recently spoken with Kapernick, the Broncos' linebacker said that he has. He also relayed that the former San Francisco 49ers' star is still working out and that he wants to play NFL football.
"I talked to him last week. He told me he's working out five days a week, but he's not hearing from anybody. Nobody is taking his calls."
Marshall went on to say that despite the fact that the NFL has basically ignored Kaepernick, that hasn't stopped the Nevada product from preparing as if he'll soon get a call from an NFL franchise
"He's still grinding, he's still working. He still wants to be out there," Marshall said.
Recently, the Tennesee Titans have had some concerns at quarterback due to injury, but Kaepernick was apparently not even an option as a potential backup to Marcus Mariota. That may have been one of the best football fits for Kaepernick, so again, outside of a major injury shakeup, it's hard to see his fortunes turning around.
Marshall played at Nevada from 2008 to 2011 before being drafted by the Jacksonville Jaguars in the fifth round of the 2012 NFL Draft. Kaepernick played at Nevada from 2007-2010 before being drafted by the 49ers in the second round of the 2011 NFL Draft.
Kaepernick played in a Super Bowl for San Francisco, but lost to the Baltimore Ravens. Marshall won the Super Bowl with Denver in Super Bowl 50.