Photo by Michael Reaves/Getty Images
The NFL's biggest fear as legalized gambling became normalized has been some NBA-like scandal with a referee or players fixing games.
It appears the league wasn't thinking high enough.
On Tuesday, that fear escalated to red-alert status with the accusation by former Miami Dolphins coach Brian Flores that owner Stephen Ross incentivized him to lose games in 2019. Flores made the claim in a lawsuit against the Miami Dolphins, Denver Broncos, New York Giants and the league that he is a victim of racially biased hiring practices.
What Does Brian Flores' Lawsuit Mean?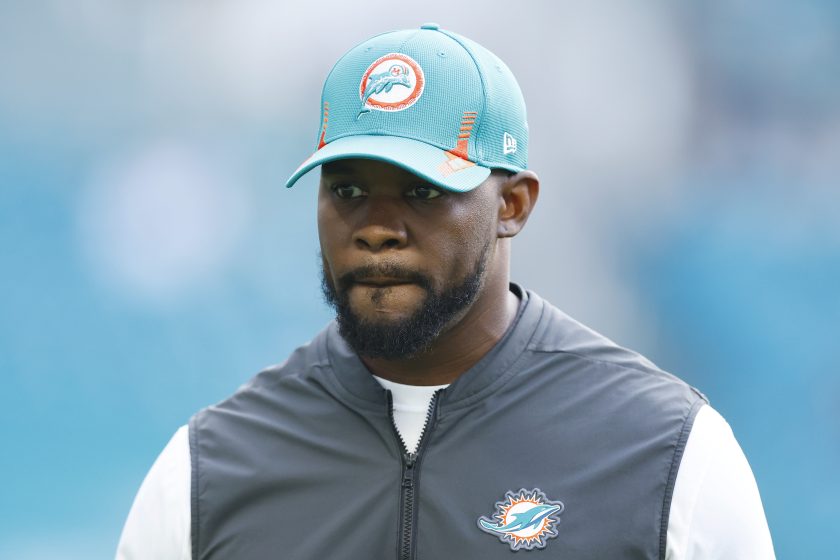 While some will mock Flores' lawsuit as some form of sour grapes, understand that this lawsuit comes with automatic consequences. This lawsuit essentially makes Flores radioactive. He is Curt Flood, a man taking on the sports establishment in hopes of progress for others, but likely making himself an outcast.
"It had to happen," said John Wooten, the former director of the Fritz Pollard Alliance as his voice trailed off in disappointment. Wooten, who is 85 and has fought the battle for equality for years, knows that Flores' career is dead. He spoke with Flores on Tuesday night after Flores filed the lawsuit, expressing support while knowing the sacrifice that had just been made.

"It becomes insulting. They (the owners) agreed 32-0 to have the Rooney Rule and they continue to do this stuff. We told Brian we are fully behind him. They are not living by the rule and it's insulting and hurtful. I can't tell you in words how hurtful this is."
The 40-year-old Flores, who seemed to have promise as a head coach despite his surprising dismissal by the Dolphins after this season, will likely never coach again, even as an assistant. Worse, he's going to get trashed by a league that blackballed quarterback Colin Kaepernick.
At the same time, Flores may leave an indelible mark, both on the hiring practices by a league that pretends to be progressive and by making sure that the idea of tanking never becomes a truly accepted practice.
Flores in the class-action lawsuit accusing racial discrimination revealed text messages from New England Patriots coach Bill Belichick congratulating him on getting the New York Giants job — a message that was actually meant for Brian Daboll — before Flores had even interviewed for the job.
Flores is attacking the integrity of the league on two fronts. More specifically, his accusation that Ross offered him $100,000 for each game he lost in 2019 as the Dolphins hoped to get in position for the No. 1 overall pick in the 2020 draft is as ugly as it gets.
"I didn't grow up with a lot and this game changed my life. So to attack the integrity of the game, that's what I felt was happening in that instance, and I wouldn't stand for it," Flores said Wednesday morning in an interview on CBS. "I think it hurt my standing within the organization and ultimately was the reason I was let go."
Wooten took it a step further.
"This is unbelievable," he said of the accusation against Ross. "Look at what you're asking people to do. It goes against every principal you are trained to do, what players are practicing to do…I'm wordless on that. I can't even believe that someone would say that."
Former Cleveland Browns head coach Hue Jackson also suggested on Tuesday he was offered money to "tank" games.
What Stephen Ross' Tanking Allegations Mean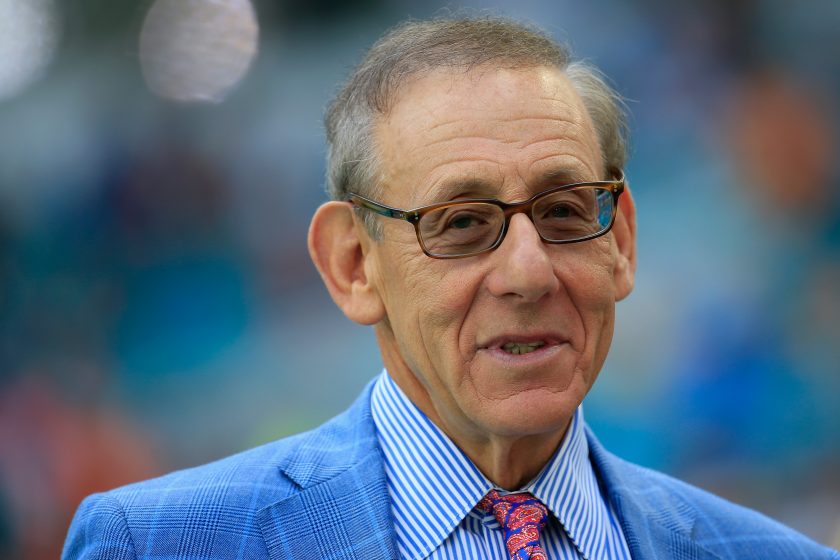 If Flores has enough evidence — and ProFootballTalk founder Mike Florio indicated Tuesday he himself had overhead Dolphins owner Stephen Ross talking indirectly about the idea of tanking — Ross is gone. He becomes, in a sense, the modern Arnold Rothstein, the gambler and architect of the infamous 1919 Black Sox scandal.
Only worse.
While the idea of "tanking" a season has become somewhat normalized in today's culture, particularly as fantasy sports "owners" rely on the concept to rebuild their "dynasty teams," the truth is that tanking is unacceptable. It makes sports pro wrestling, a sham exercise.
It impacts everything about the game, from whether fans should be asked to pay full price to watch a substandard product to how playoff teams can be helped by playing games against sham teams. Major League Baseball right now is fighting a huge battle against tanking as teams like Colorado, Arizona and the Chicago Cubs dismantled their teams. Colorado and Arizona played in the same division as the San Francisco Giants and Los Angeles Dodgers, allowing those teams to both win more than 100 games.
There have been examples of tanking in the NFL, such as Tampa Bay at the end of the 2014 season when it rested starters in the second half of a loss to New Orleans that assured the Buccaneers of the No. 1 overall pick. However, that is a far cry from Flores' claim that Ross wanted to tank a whole season.
Any whiff that the NFL could have fixed games is a palpable fear to the league. In Fall 2017, NFL Chief Media and Business Officer Brian Rolapp talked about that in a casual conversation.
"Could you imagine what would happen to us if we had a scandal like the NBA with officials fixing games?" Rolapp said, rhetorically, as he discussed how careful the NFL had to be about legalized gambling.
Rolapp is not, by nature, an alarmist. As one of the four most powerful executives in the league and perhaps the only one in the league office with the gravitas among owners to succeed Commissioner Roger Goodell, Rolapp is paid to both come up with big ideas and solve the biggest problems.
Now, he and Goodell may face the specter of an owner trying to throw games, not to mention the continuing black eye that is the league's hiring and firing practices. To say that Ross, a man worth roughly $8 billion, is teetering as the owner of the team is an understatement. Ross soon may be just as radioactive as Flores.
But if this is what it takes to help shine a light on the league's hiring practices, that may be worth it. Flores was surprisingly fired after this past season despite leading the Dolphins to back-to-back winning seasons for the first time since 2003. While the Dolphins season may have been slightly disappointing, it was hardly a complete failure. It was clear that the players gave effort under Flores even after a rough start.
Yet, after firing Flores, the Dolphins went on a campaign to disparage him, saying he was difficult to deal with (Ross implied that during a press conference and others around the organization have whispered it to the press. It wasn't enough to fire Flores, the Dolphins had to trash him to justify their actions.)
The NFL Has Failed to Hire Minority Coaches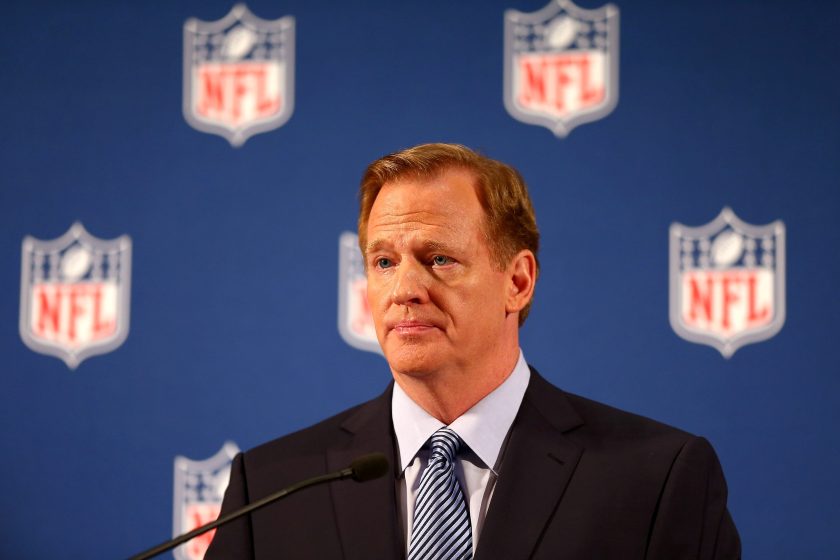 Beyond Flores being fired, the hiring process continues to be unimpressive for the league. Over 20 years since the Rooney Rule has gone into effect, the NFL has gone from two coaches of color (Tony Dungy and Dennis Green) to three (Mike Tomlin, Ron Rivera and Robert Saleh). This is in a game where more than 70 percent of the players are minority.
It is despite the fact that the qualifications for leadership are as malleable as a can of Play-Doh sitting in the backseat of a car in a Florida summer. Yet during this year's hiring cycle, four of nine openings have been filled, all again by white men. Of the five spots remaining, it appears that Minnesota is going to hire Jim Harbaugh, meaning Jacksonville, Miami, Houston and New Orleans will be the only remaining landing spots.
What Flores' lawsuit may expose is the often sham interviews that are done by NFL teams. Those sham interviews persist because the people who own teams don't seem to understand that black men can lead. Those owners don't look at the fact that two of the past 10 coaches to win Super Bowls are black men, which is the point of the exercise.
Flores can expose all of that that because he is willing to shine a light on the league's biggest fear. A fear made worse by the fact that an owner may have taken part in it.
Related Videos