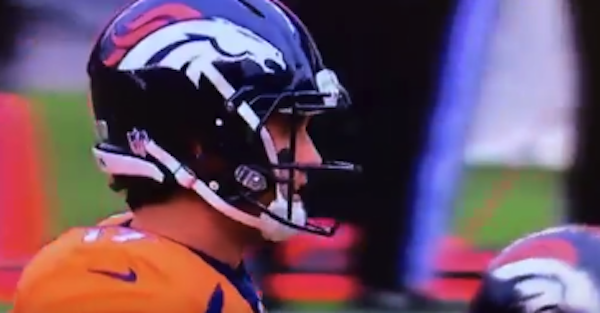 @AndyJ0seph/Twitter
Brock Osweiler is the quarterback under center for the Denver Broncos these days, and he's got a pretty unique pre-snap audible. Take a listen:
Osweiler certainly isn't Peyton Manning, but the Broncos signal caller's audible is a million times better than Omaha.
After starting out the season with Trevor Siemian as the starting quarterback and ?permanent decision?, the Broncos made the switch to Osweiler weeks ago.
Osweiler was traded in a salary dump to the Browns earlier this summer, who waived him. Osweiler headed to the Broncos on a one-year, $775k deal, meaning Cleveland is responsible for the remaining $15.225 million in guaranteed salary.
Less than two years ago, Osweiler decided to turn down a contract with Denver (worth $16 million per year, according to PFT?s Mike Florio) to join the Houston Texans. His gig in Texas didn?t work out, and that?s an understatement.
Osweiler showed some nice things during the preseason in Cleveland, though, and that?s led to him getting another chance in Denver.
Previously, he strolled the Denver sidelines as the backup to Peyton Manning, which was a gig with a low ceiling.