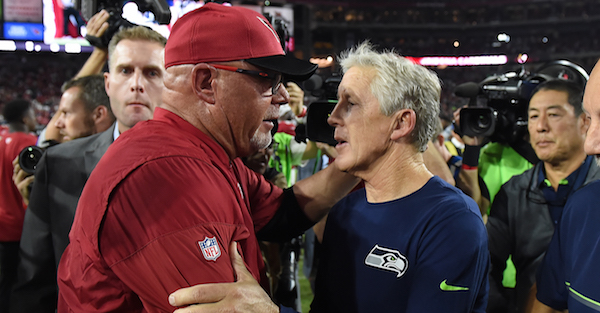 Norm Hall/Getty Images
GLENDALE, AZ - OCTOBER 23: Head coaches Bruce Arians of the Arizona Cardinals and Pete Carroll of the Seattle Seahawks greet each other after the NFL game at University of Phoenix Stadium on October 23, 2016 in Glendale, Arizona. The Seattle Seahawks and Arizona Cardinals tie 6-6. (Photo by Norm Hall/Getty Images)
Former two-time NFL Coach of the Year Bruce Arians is reportedly planning to make 2017 his final season as head coach of the Arizona Cardinals, according to ABC 15.
According to the report, Arians has "told people close to him that he intends to make the 2017 season his last with the Cardinals."
A later report went directly against ABC's story:
If Arians does intend to leave next season, it would make sense why he's deny now, not wanting the distraction over the rest of the year.
With Carson Palmer (37) suffering a broken arm and Larry Fitzgerald (34) playing for another noncompetitive team, the Cardinals could see a dramatic shakeup.
Arians is a two-time Super Bowl Champion as a member of the Pittsburgh Steelers coaching staff. The 65 year old has a 44-26-1 record with the Cardinals, and helped lead the Indianapolis Colts to a 9-3 record in 2012.
Arians revealed in his book that he was diagnosed with renal cell carcinoma during the 2016 season.
Renal cell carcinoma is the most common form of kidney cancer, and he said in his new book "The Quarterback Whisperer" with Lars Anderson that he received the diagnosis in December.
Arians decided to coach the rest of the season for the Cardinals, and he had the cancer removed in February. He wrote on the Arizona Cardinals' team website that he's healthy and ready to return to the field.
"Now I feel great," Arians writes. "My energy has returned. I'm told I'm cancer-free again. I'm ready for at least one more season of NFL football—maybe more."
Related: When Peyton Manning reportedly begged to be pulled from a blowout, here's the expletive-laced response his coach gave him
Arians has now had cancer three different times. The 64-year-old had prostate cancer in 2007 and had cancerous cells removed from his nose in 2013.
"Moving forward, I want to be a beacon of hope for others struggling with cancer," Arians writes. "My fight is their fight. I'm not coaching for myself in 2017; I'm coaching for everyone who's dealing with cancer. This is my charge."
He was also rushed the hospital in November of last year after a loss to the Minnesota Vikings.