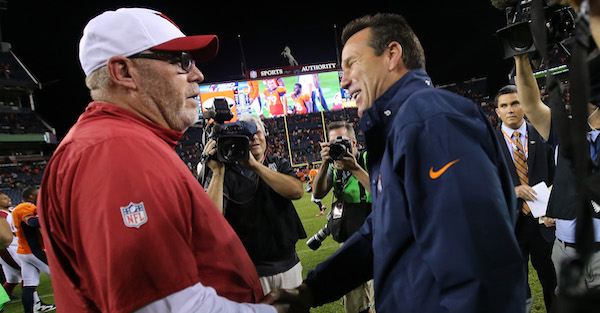 Doug Pensinger/Getty Images
DENVER, CO - SEPTEMBER 03: Head coach Bruce Arians of the Arizona Cardinals and head coach Gary Kubiak of the Denver Broncos meet at midfield following their during preseason action at Sports Authority Field at Mile High on September 3, 2015 in Denver, Colorado. The Cardinals defeated the Broncos 22-20. (Photo by Doug Pensinger/Getty Images)
ESPN is in need of a top-flight NFL game analyst, as Jon Gruden fled Monday Night Football to take a massive contract with the Oakland Raiders. While the opening on television may not be as interesting in a big-picture sense when compared to Gruden's work on the sideline, ESPN could certainly use a home run hire and, from an outsider's perspective, there isn't an overly clear internal candidate for the worldwide leader to tab in the role.
With that as the backdrop, former Arizona Cardinals head coach and two-time Super Bowl champion (as an assistant coach) Bruce Arians is apparently interested in the job and he indicated as much to Josh Weinfuss of ESPN on Friday.
"Oh gosh, I'd be interested. I don't think they're interested in me. But that would be like the dream job, especially working with someone as good as Sean [McDonough]. That'd be fun. That's obviously a home run."
Obviously, Arians does not appear overly confident that ESPN would share the interest, but the fact that he would want the job is news in and of itself.
Arians has long been lauded for his work with the media while on the sideline and, while that doesn't always translate to the booth, it certainly doesn't hurt. Still, it is probably fair to be skeptical that he would be the best option given the lack of broadcasting experience and a jump directly from coaching to the booth. Perhaps ESPN can (or will) pick up the phone and tab him… for a different role.