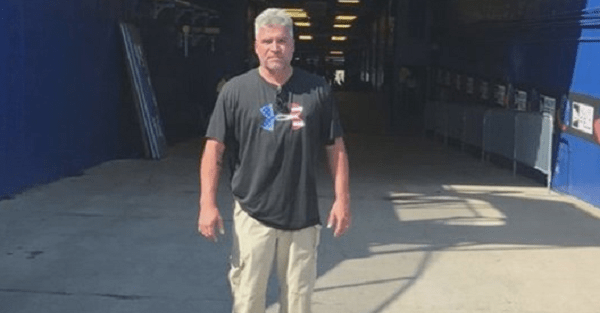 WGRZ
Reactions are still coming fast and furiously in the aftermath of widespread national anthem protests on Sunday in the NFL. Many have come down on both sides, both in and out of the sports world, while fans have even decided to sell season tickets as a result of their outrage. However, one NFL team employee took things to the next level on Sunday, quitting his job on the spot after players took a knee.
Eric Nikischer has reportedly worked for the Buffalo Bills for nearly three decades but that is no longer the case, as he spoke to Erica Brecher of WGRZ.
?I waited until the National Anthem ended, I took off my shirt, threw my Bills hat on the ground, walked out,? Nikischer said in a sit-down interview with Channel 2 at his West Seneca home.

Nikischer says he has no problem with players protesting before the National Anthem. It's when the kneeling continued into the song that strong feelings took over.

?During the National Anthem?the song that is about our country, our veterans that fight and die for us, it's just something I feel you shouldn't disrespect that way,? he said. "I believe people have the right to protest; I just don't believe that's the proper venue for it.?
Nikischer certainly isn't alone in his thoughts, but his convictions leading him to affect his way of life when it comes to employment is definitely noteworthy. Others have been affected directly by the protests but this is one case that might gain additional traction.