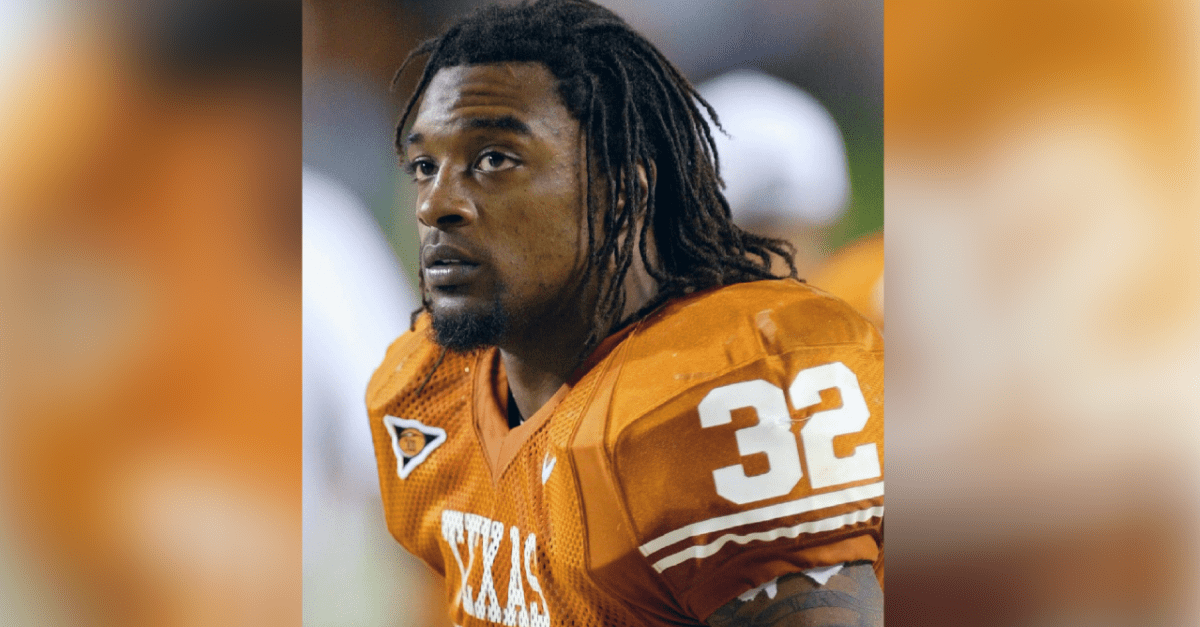 AP Photo/Harry Cabluck, file
Multiple reports confirmed that former NFL running back Cedric Benson ? who still ranks ninth on the NCAA's all-time rushing list (5,540 yards) after his career with the University of Texas Longhorns ? was killed in a motorcycle vs. mini-van crash in northwest Austin, Texas late Saturday night. An unidentified female passenger was also killed in the fiery motorcycle crash.
Benson's football career is well-documented. After being the No. 4 overall pick in the 2005 NFL Draft, Benson struggled to start his career with the Chicago Bears. (Benson later said there was "no year in Chicago I was happy.") He then signed with the Cincinnati Bengals, where Benson realized his potential and rattled off three-straight 1,000-yard seasons and scored 20 touchdowns in that stretch. A Lisfranc injury to Benson's foot, as well as numerous off-the-field issues, ended his NFL career in 2012.
Benson was an avid motorcyclist and often posted to his social media accounts about his time on two wheels. Unfortunately, it was that passion that ended his life. While specific details of the crash are still unknown, Benson and the woman killed on that motorcycle offers a chilling reminder that while two wheels are better than four, it's other vehicles on the road that often pose the biggest threat.
I grew up on motorcycles, and everything I learned came from my dad. He taught me how to take them apart and put them back together. He showed me how to spot good bikes and avoid the bad ones. He pounded into my head that wearing jeans in the summer was necessary, where to put my tires on the road, and of course, how to jump dirtbikes really far.
The biggest lesson, however, was that no matter how safe you are, the greatest danger to a motorcyclist is other drivers. Bikes can be harder to see, and plenty of drivers get nervous around them on the open road. Some cars make an effort to pass bikes at high speeds just to avoid being close to them. It's a dangerous game, especially for newer motorcyclists. In 2017, the NHTSA reported that over 5,000 motorcycle riders were killed. In terms of vehicle miles traveled, that means motorcyclists were killed 27 times more often than passenger car occupants.
The honest truth is that most motorcyclists are safer than drivers. We don't use a cell phone. We aren't blasting music so loudly we can't hear anyone around us. There's no opportunity to bust out a sandwich and eat while you're driving. Motorcycle riders are more in-tune with what's actually happening on the road instead of what's happening inside the car.
I've never met an avid biker who would trade those two wheels for anything, and although I'll never know him, Cedric Benson was no exception to that rule. On the day of his motorcycle accident, Benson posted a photograph of his BMW bike to his Instagram story with the caption "My Saturday evening."
RELATED: Biker Absolutely BLEW UP on a Driver After She Almost Sideswiped Him
Outside of football, Benson founded NUFCED ? Nurturing Underprivileged Families Cultivating Educational Development ? which aids in "educational development through community and school programs across the state of Texas." The former Midland Lee High School star ? Benson led the school to three-straight state championships from 1998-2000 ? also hosted a free football camp through his organization.
Legal troubles that began during his time in college were a difficult reality for Benson. Numerous alcohol-related arrests, including boating while intoxicated (2008), a misdemeanor charge of assault (2011), and several driving while intoxicated charges, involved jail time and fines throughout the years. Just two days before his death, the Austin-American Statesmen reported that Benson was sentenced in Travis County court to two days in jail and fined $200 for a drunk driving arrest in February 2017. Last October, Benson was ordered to pay $41,000 to a woman who was attacked by his Rottweilers while she was walking in West Austin.
Benson, a Doak Walker Award winner as the nation's top RB, is one of only 10 running backs in college football history to gain 1,000 or more rushing yards in four seasons when he played for coach Mack Brown. Tony Dorsett and Ron Dayne are just two of the names on that iconic list of prolific rushers.
The moral of the story is that no one is 100-percent safe on a motorcycle. Please, the next time you see a bike, make sure and give them the same respect on the road you would a regular car. You never know who's under the helmet. Benson's death is sadly a reminder of that reality.