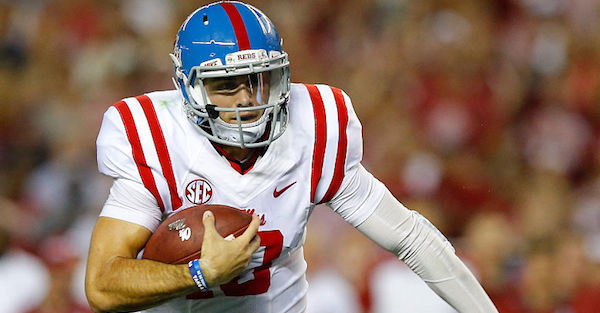 Kevin C. Cox/Getty Images
TUSCALOOSA, AL - SEPTEMBER 19: Chad Kelly #10 of the Mississippi Rebels rushes against the Alabama Crimson Tide at Bryant-Denny Stadium on September 19, 2015 in Tuscaloosa, Alabama. (Photo by Kevin C. Cox/Getty Images)
Many analysts saw former Ole Miss quarterback Chad Kelly as a potential draft sleeper — and he even slept on himself at one point, quite literally — and they may turn out to be right as he was drafted last back in April. Former Colts general manager and Hall of Famer Bill Polian seems to think that the nephew of the legendary Buffalo Bills quarterback Jim Kelly happens to be the most talented of Denver's quarterbacks as well as he told it to NFL Live (transcribed via SEC Country):
"By the way, in the bullpen is Chad Kelly, who is more talented than either of these two guys, but has a lot of growing up to do."
He was also asked to clarify his stance on Kelly being the best QB on the roster and Polian said that he is the best one on the roster talent-wise.
Growing up Kelly
Polian referenced Kelly needing to grow up when he said he was the best QB on the possible playoff-bound Broncos. He is likely referencing the 6'2″, 225-pound gunslinger's dismissal from Clemson which came two days after he snapped at coaches during the spring game. He had to be escorted out of the football facilities by police and coach Dabo Swinney described his behavior as "a pattern of behavior that is not consistent with the values of our program."
Even after Kelly announced his transfer to Ole Miss he didn't stay out of trouble as he was reportedly involved in a high school football game brawl and later allegedly threw a punch at a club bouncer. During the latter incident he also was reportedly involved in an altercation with police, pleaded guilty to disorderly conduct and was sentenced to a conditional discharge that included community service.
However, when you ask all of his coaches they all love him and say he's one of the hardest workers on the team. After the Sugar Bowl win in 2016 (for the 2015 season) he got back on campus and was already scouting his opponents for the next season.
"If [an NFL team] asks about Chad this is exactly what I'll tell them," says quarterbacks coach Dan Werner, via SI. "Since he's been here, he's done everything I've asked him. He's gotten basically all A's and B's. He's played great for us and he loves the game of football."
Kelly might not have to do much to win the job
While Kelly's off-field antics might scare some, if we are going on talent alone then he would probably be a clear starter for the Broncos. Trevor Siemian was not great at all last season throwing 18 touchdowns against 10 interceptions for 3,400 yards while completing less than 60 percent of his passes in the 14 games he played. Those last two games belonged to rookie Paxton Lynch who got the start and went 1-1.
Lynch's ability to throw the ball has come under fire as well as he completed 59 percent of his passes in the two games he started and threw two touchdowns against one interception. His ability to sling also came under fire during OTAs when he was missing easy targets and his teammate caught it on video.
Kelly's on-field work is supremely impressive and pretty much speaks for itself. In his first year at Ole Miss, in 2015, Kelly broke or tied 14 school records including single-season passing yards (4,042), passing TDs (31) and completion percentage (65.1). In his nine games last season he also threw for over 2,700 yards and 19 touchdowns against eight interceptions while completing about 62 percent of his passes. And that was against the best defenses in the country in the SEC West.
Injury history helped his NFL Draft fall
He was the 235th pick overall, making him the Mr. Irrelevant of this NFL Draft. He fell far thanks to a wrist injury he suffered during his Pro Day and a torn ACL as well as torn meniscus in his knee he suffered during the season that kept him out the last four games of the season.
Should he earn a start at some point in the season you can probably expect some fireworks and some long balls from the kid with the big arm.