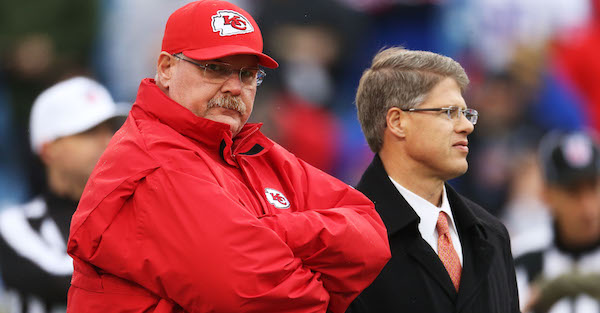 Tom Szczerbowski/Getty Images
ORCHARD PARK, NY - NOVEMBER 09: Head Coach Andy Reid of the Kansas City Chiefs and Kansas City Chiefs owner Clark Hunt during the first half at Ralph Wilson Stadium on November 9, 2014 in Orchard Park, New York. (Photo by Tom Szczerbowski/Getty Images)
The power of social media is undeniable. One click of the like button, one share, one comment can go a long way and send ripple effects across the internet.
It happens all the time, and one of the most frustrating aspects is how people believe a lot of what they see on the internet. People are way too gullible.
And now it's having an effect on the Kansas City Chiefs.
Prior to the Chiefs' opening night kickoff against the New England Patriots on Thursday night, Kansas City's star cornerback, Marcus Peters, was seen sitting during the national anthem.
Obviously, that move is making headlines, but it isn't alone.
A fake letter from Kansas City owner Clark Hunt is circulating on social media, in which Hunt allegedly prohibited his players from protesting the national anthem.
The problem, though, is that Hunt has denied that report. He denied it last year.
"I have heard about it," Hunt told The Kansas City Star. "It was an Internet hoax."
The (perhaps) bigger problem is the fact that this is the second time the fake letter has made its way across the internet.
Here's how the fake letter reads:
"Clark Hunt, CEO and Owner of the Kansas City #Chiefs called a meeting with all of his Coaches, Players and field staff and firmly told them, "You are all simply paid performers on a stage and that field is my stage!
You will stand, with your hand over your heart and with respect, when our Country's National Anthem is being played or you will no longer be a Kansas City Chief, a Coach for the Kansas City Chiefs or any association with the Chiefs Organization!
I Will immediately fire you, no matter who you are!" You can make your political statements off the field, but when you're employed by me and I'm signing your check, 
I demand that you make our fans proud and not embarrass them."
The situation involving NFL players protesting the national anthem is a controversial one — to say the least. But it isn't made lighter by individuals who post false information on the internet while masquerading as someone else — especially people in power.
And it also doesn't help when others like or share that false information.
The moral of this story, ladies and gentlemen, is don't believe everything you see online.
[h/t The Kansas City Star]