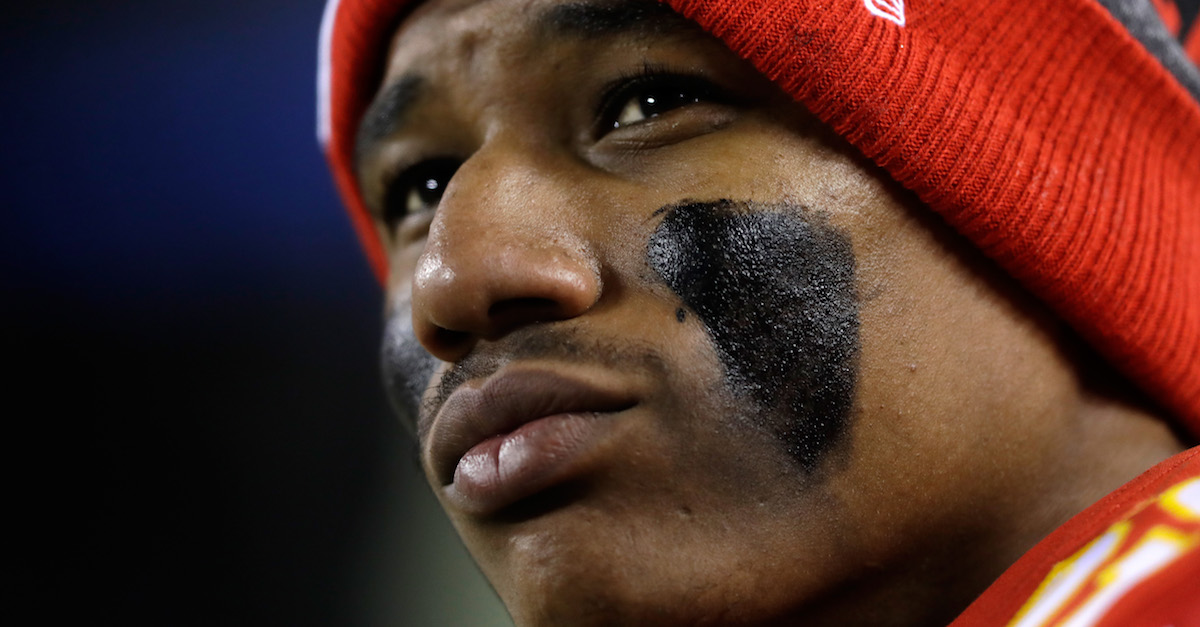 Jamie Squire/Getty Images
KANSAS CITY, MP - JANUARY 15: Cornerback Marcus Peters #22 of the Kansas City Chiefs sits on the sidelines during the second half against the Pittsburgh Steelers in the AFC Divisional Playoff game at Arrowhead Stadium on January 15, 2017 in Kansas City, Missouri. (Photo by Jamie Squire/Getty Images)
Colin Kaepernick is still not on a roster, and it doesn't appear he will be any time soon.
However, the former San Francisco 49ers quarterback is still having a major impact on the NFL, and it's a highly controversial one.
A few weeks ago, in the preseason, we saw yet another group of NFL players take a knee while the national anthem played before a game when a few Cleveland Browns chose not to stand. That prompted an NFL legend to intervene.
Now, we have one of the league's best defensive backs continuing his protest.
Prior to kickoff for the New England Patriots' game against Kansas City, the Chiefs' star cornerback, Marcus Peters, sat down while the national anthem played.
Related: Here's the truth about a letter floating around on the Chiefs owner's stance on the national anthem
This isn't the first time Peters has drawn attention during the anthem, though. Last month, he chose to ride a stationary bike instead of standing.
This is a long way away from where Peters was in 2016, when he chose to show support for Kaepernick and the movement by locking arms with his teammates and holding a fist in the air.
The 24-year-old star from the University of Washington was the No. 18 overall pick in the 2015 NFL Draft and has quickly emerged as arguably Kansas City's best defensive player.
He recorded eight interceptions as a rookie in 2015, taking two of them back for touchdowns. Then, last season, Peters picked off six more passes. He's played in 31 games and has started each one of them.
[h/t 247Sports]