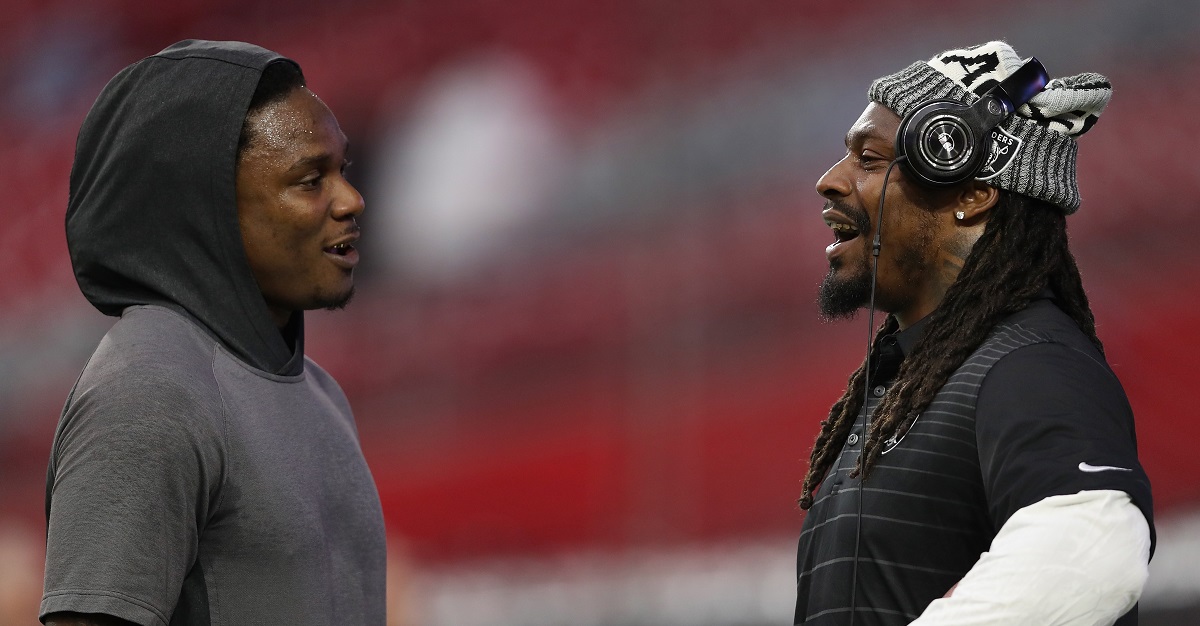 Christian Petersen/Getty Images
GLENDALE, AZ - AUGUST 12: (L-R) Running backs Chris Johnson #23 of the Arizona Cardinals and Marshawn Lynch #24 of the Oakland Raiders talk on the field before the NFL game at the University of Phoenix Stadium on August 12, 2017 in Glendale, Arizona. The Cardinals defeated the Raiders 20-10. (Photo by Christian Petersen/Getty Images)
Again, we could be looking at the end of the career of running back Chris Johnson.
The Arizona Cardinals acquired former MVP running back Adrian Peterson on Tuesday, sending back a conditional draft pick to the New Orleans Saints in order to get him. Due to that, the Cardinals have had to make a corresponding roster move, and it appears that the move they are making is dropping another former league-leading rusher: running back Chris Johnson.
Johnson was originally cut before the season by the Cardinals as part of their getting the roster down to 53-men, but he was eventually re-signed just two weeks later. Johnson had only appeared in one game this season, rushing for 44 yards on 11 attempts.
Johnson was signed by the Cardinals ahead of the 2015 season, where he proved he still had some value left with some sizable contributions out of the running back spot. However, injuries slowed Johnson down in 2016, and it looks like those may have finally gotten the best of Johnson with the Cards cutting him yet again.
In his career, Johnson has 9,581 rushing yards and 55 touchdowns. Johnson famously rushed for over 2,000 yards back in the 2009 season, but his career sharply declined after that breakout season.
Johnson, a former first-round pick of the 2008 Draft, turns 32 later this month. With Arizona letting him go now, this could prove to be the end of the line for the three-time Pro Bowler.