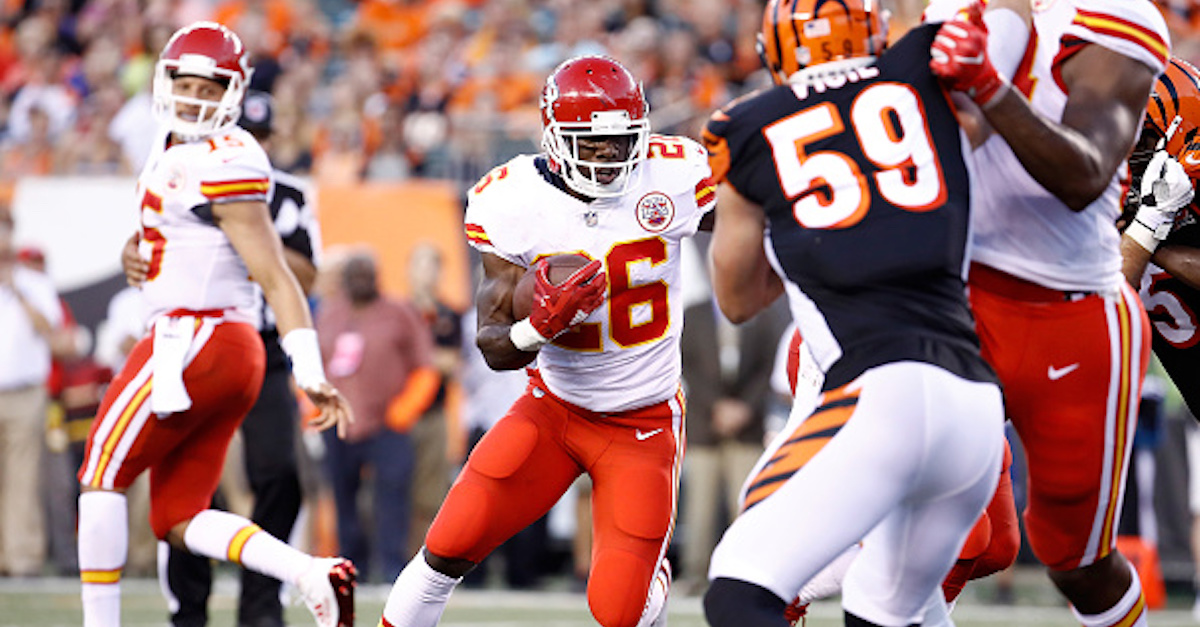 Andy Lyons/Getty Images
CINCINNATI, OH - AUGUST 19: C.J. Spiller #26 of the Kansas City Chiefs runs with the ball against the Cincinnati Bengals during the preseason game at Paul Brown Stadium on August 19, 2017 in Cincinnati, Ohio. (Photo by Andy Lyons/Getty Images)
Terez A. Paylor of the Kansas City Star is reporting that the Chiefs have cut running back C.J. Spiller in order to make room on the 53-man roster for third year running back Akeem Hunt.
Spiller, the former No. 9 overall pick of the 2010 NFL Draft, has now been cut for the third time this month, which is crazy when you consider the potential he came into the league with and the potential he flashed at times — specifically with the Buffalo Bills. It's also crazy because it's been the Chiefs that have cut him each and every time. Kansas City cut him twice in one week in early September, including once before the season so that his contract would not be guaranteed for the 2017-18 season.
He was signed back to the roster on September 8th, but apparently, Kansas City doesn't see him as anything but a stop-gap on the roster and someone they can take on and off the 53-man when needed because he's gone again.
Spiller's NFL career never lived up to the hype, though he has flashed potential at times. He rushed for 1,244 yards and six touchdowns for Buffalo in 2012, also adding 459 yards and two touchdown receptions through the air.
That season was by and far his best in the NFL because 2013 saw him rush for only two scores, and he hasn't rushed for a touchdown since. He did catch two touchdown passes for the New Orleans Saints in 2015 and one for the Seattle Seahawks in 2016, but his story is one of missed potential.
From Top 10 pick to journeyman.