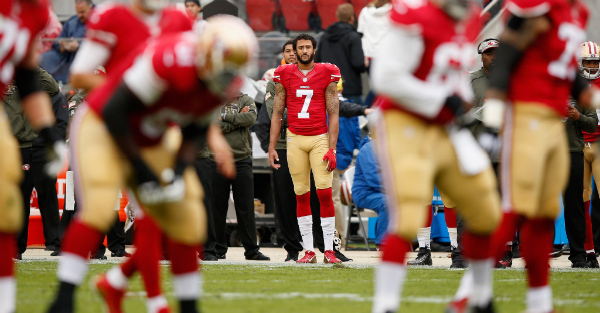 Ezra Shaw/Getty Images
SANTA CLARA, CA - NOVEMBER 08: Colin Kaepernick #7 of the San Francisco 49ers watches Blaine Gabbert #2 play quarterback during their game against the Atlanta Falcons at Levi's Stadium on November 8, 2015 in Santa Clara, California. (Photo by Ezra Shaw/Getty Images)
Former San Francisco quarterback Colin Kaepernick has been very outspoken over police brutality and racial issues in the United States over the past year, with his protest of the national anthem sparking outrage and tons of conversation both in and out of the NFL.
Kaepernick is currently a free agent, with some believing that his protests have led to him being blackballed by the NFL. Well, Clay Travis of FOX Sports is now taking that further, believing that "no NFL team" will touch Kaepernick following his latest message on police brutality.
Travis's critique comes after Kaepernick tweeted this out following the acquittal of a police officer in the death of Philando Castile.
In the tweet, Kaepernick juxtaposed a picture of a police badge next to an old photo of a badge inscribed "runaway slave catcher".
Travis, who has been an outspoken critic of Kaepernick during the protests, believes that his comparison could be the final straw for Kaepernick's NFL hopes.
"If an NFL team wasn't willing to employ him before this Tweet, why would any NFL team employ him now?" Travis posed in an article criticizing Kaepernick's latest message.
After a standout career at Nevada, Kaepernick helped lead the 49ers to consecutive appearances in the NFC Championship Game in 2012 and 2013, as well as an appearance in Super Bowl XLVII. Kaepernick threw for 2,241 yards and 16 touchdowns last season before opting out of his contract with San Francisco in March.