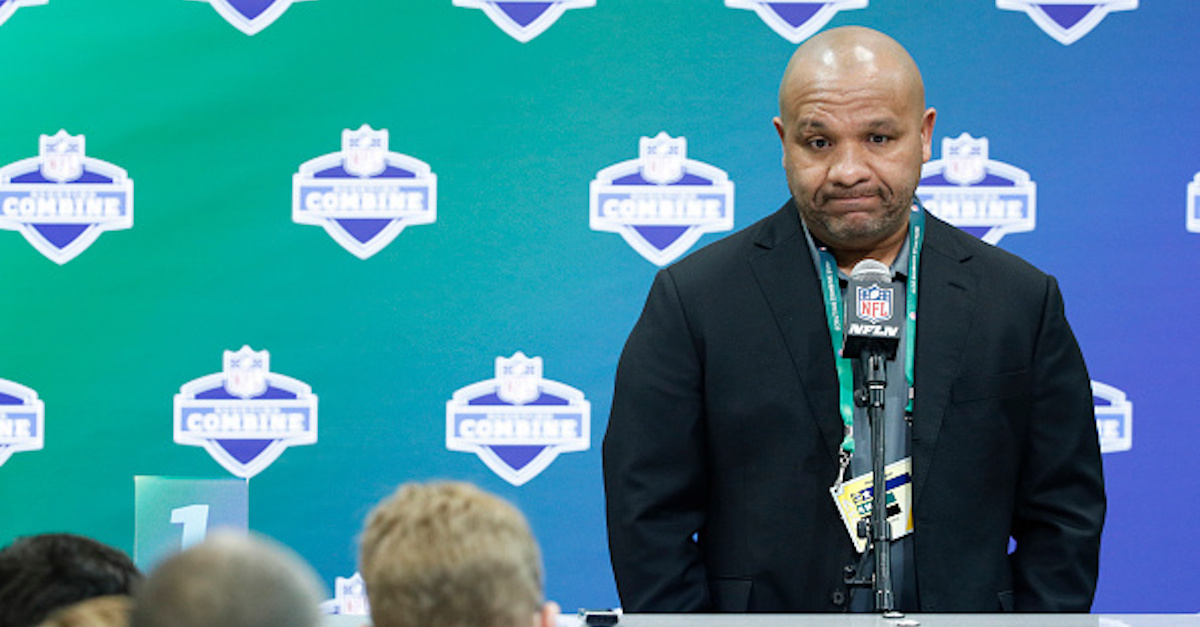 Joe Robbins/Getty Images
INDIANAPOLIS, IN - MARCH 02: Head coach Hue Jackson of the Cleveland Browns answers questions from the media on Day 2 of the NFL Combine at the Indiana Convention Center on March 2, 2017 in Indianapolis, Indiana. (Photo by Joe Robbins/Getty Images)
Jimmy Garoppolo was finally traded after some time stashed on the New England bench as a valuable backup behind Tom Brady, and in true Patriots fashion, Bill Belichick and company got something in return for him.
Related: Cleveland reportedly botched trading for their "quarterback of the future"
Garoppolo was initially a second-round draft pick in 2014, mind you, and the Pats got rid of him for a second-round pick from the San Francisco 49ers — which is not a bad return on an investment considering the fact that he was serving as a backup quarterback.
The Patriots are a smart organization that makes smart moves. The same can't be said for the Cleveland Browns, though, a franchise that reportedly missed out on the Garoppolo sweepstakes.
It appears that the Browns wanted to be a major player for Garoppolo, or at least the coaching staff was hoping they would be. According to NFL Insider Benjamin Allbright on Twitter, the Browns' coaching staff was burning the candle at both ends trying to orchestrate a trade between Cleveland and New England. The front office apparently didn't do the same though, and that has reportedly led to some frustration.
Allbright tweeted out his report, which dawgsbynature.com put into readable form.
"I got several emails last night that the coaching staff for Browns is HIGHLY upset at the front office. Coaches were in the building working, and the front office went home at 5 PM. While coaches continued to work the night before the trade deadline, Sashi Brown was unaware of the Jimmy G trade and was actually informed of it by an irate coaching staff who had lobbied to acquire him, over an hour after it happened.

Coaching staff feels that the front office is undercutting them by not acquiring the talent they need to win, and not putting in matching effort to do so. Like anything, there's three sides to the story (his, hers and the truth) but this was relayed to me last night."
It probably doesn't help ease tension in Cleveland to look at the record books and realize that the Browns are once again abysmal. Through eight games they're 0-8 and the bottom isn't in sight yet.
DeShone Kizer, who Cleveland drafted in the second round as an answer to its quarterback woes, has thrown for three touchdowns compared to 11 interceptions and has added only three on the ground.
Quarterback is once again a sticking point in Cleveland, and the coaching staff obviously felt it had an opportunity to fix that by trading for Jimmy G.
Alas, the Browns were the Browns and it didn't go down.