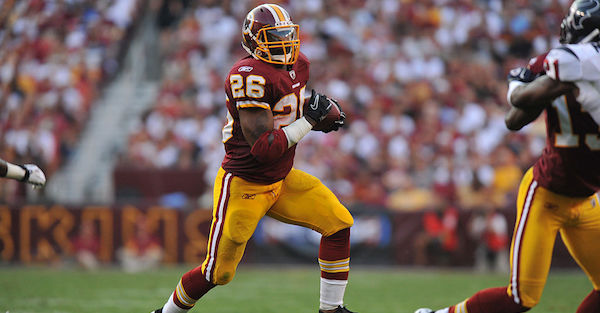 Larry French/Getty Images
Larry French/Getty Images
Former NFL running back Clinton Portis made $43 million during his nine-year career with the Denver Broncos and Washington Redskins, but he lost the majority of his earnings due to a series of bad investments.
According to a recent story from Sports Illustrated, Portis considered killing one of his financial managers he says was responsible for Portis' bad investments.
Portis sat outside the manager's office in Washington D.C. in his car with a gun in his hand, and a family therapist had to talk him out of committing murder.
"It wasn't no beat up," Portis told Sports Illustrated. "It was kill."
Related: Perennial cellar dweller investing $300 million in to football facility upgrades
It's unclear who exactly Portis was waiting on, but he said he'd probably be in prison now had he seen the person he was waiting for in the parking lot.
Portis filed lawsuits against former financial adviser Jeff Rubin after a $1 million investment in an Alabama casino. According to Sports Illustrated, Rubin and his associates opened a bank account in Portis' name and forged his signature, and there were over $3 million in withdrawals from that account.
The financial advisers have been bared from working in the financial by the Financial Industry Regulatory Authority.
Portis filed bankruptcy in 2015. He owed $500,000 to his mom, and he said a loan was taken against his home without his consent.
Former teammate Santana Moss said Portis was "on a different level" when it came to how he spent his money, and he "didn't think about tomorrow."
Portis now lives in a two-bedroom apartment in Virginia, and he assists the Redskins with TV broadcasts during the season.
"Most people would have offed themselves if they had to deal with what I had to deal with," Portis said. "Life is so much clearer after coming out of that storm."
Portis could make $1.5 million from the NFL's $1 billion concussion settlement, but he has to be tested for early signs of dementia to receive the money, He told the magazine he was scared to see the results, so he might not take the test.
It's a sad story for a great player. Hopefully he can get back on his feet and have a secure future.
(h/t ESPN)