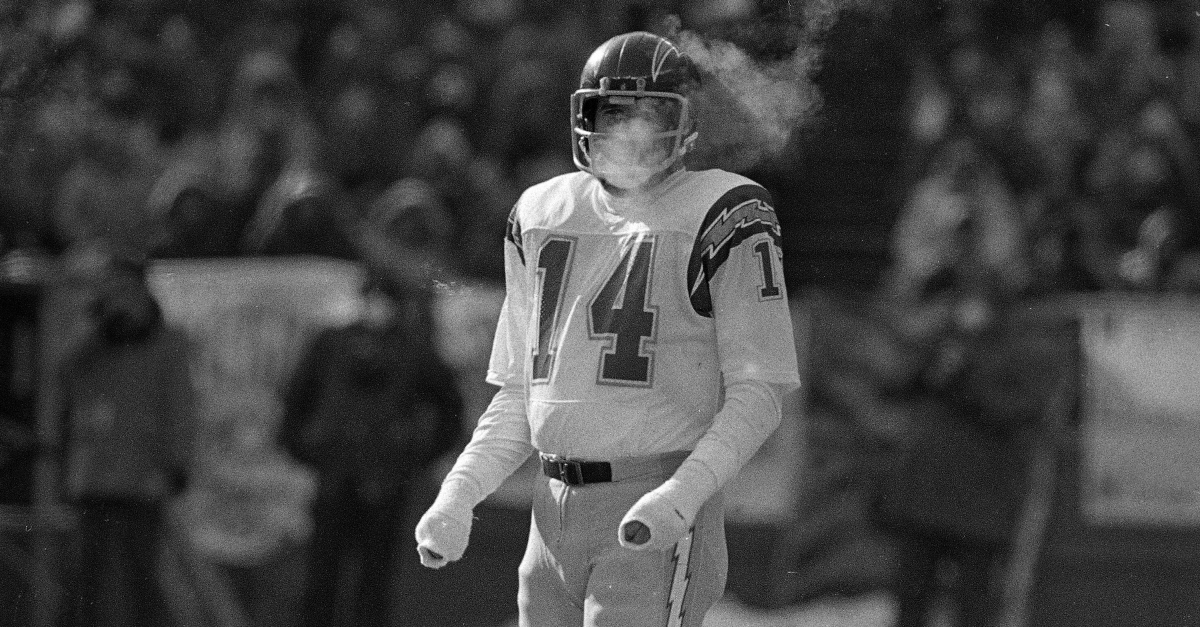 AP Photo
AP Photo
Record cold temperatures pounded the upper plains and Midwest of the United States last winter. Wind chills in parts of Minnesota dipped down near 70 degrees below zero on one of the coldest days in history. It's hard to go outside with the risk of frostbite and stinging-cold toes at those temperatures, but some people actually play football games in them.
Over the years, cold spells have moved across the northern parts of the U.S. just in time for a National Football League matchup. While the players certainly have no choice but to bundle up and play, crazed fans brave the cold and ice to watch a game they'd probably get a better view of at home. Football waits for no one, but the five coldest games in NFL history will probably convince you to throw on some pajamas, brew up some spiked hot chocolate, and wait inside until springtime rolls around.
Coldest NFL Games Ever
5. Jan. 20, 2008 — Green Bay, Wisconsin
Temp: -6 degrees
Wind Chill: -24 degrees
Eli Manning and the New York Giants beating Aaron Rodgers' Green Bay Packers in overtime, 23-20, was only part of the story in this NFC Championship Game. The game itself was fantastic, as both teams traded blows until the very end, but the icy temperatures at Lambeau Field earned this one the nickname, "The Chilling Championship."
4. Jan. 4, 1981 — Cleveland, Ohio
Temp: -4 degrees
Wind Chill: -36 degrees
The Oakland Raiders would prevail over the Cleveland Browns, 14-12, in frost-bitten Cleveland Stadium. This AFC Divisional Playoff game is famously remembered for "Red Right 88," when Browns quarterback Brian Sipe through an interception in the end zone late to lose the game. Oakland went on to win Super Bowl XV over the Philadelphia Eagles as Jim Plunkett earned MVP honors.
3. Jan. 10, 2016 — Minneapolis, Minnesota
Temp: -6 degrees
Wind Chill: -25 degrees
It's probably a smart thing that the Minnesota Vikings moved indoors to play their home games at U.S. Bank Stadium because their last one outside at TCF Bank almost froze everyone where they stood. Minnesota kicker Blair Walsh's late field goal sailed wide left to give Russell Wilson's Seattle Seahawks a bone-chilling 10-9 victory in the NFC Divisional Playoff game.
2. Jan. 10, 1982 — Cincinnati, Ohio
Temp: -9 degrees
Wind Chill: -59 degrees
It's called "The Freezer Bowl" for a reason, and remembering San Diego Chargers quarterback Dan Fouts bundled up like Randy in A Christmas Story makes this one too good to forget. Fouts turned the ball over four times, and the Cincinnati Bengals prevailed to win the AFC Championship Game at Riverfront Stadium, 27-7.
1. Dec. 31, 1967 — Green Bay, Wisconsin
Temp: -13 degrees
Wind Chill: -48 degrees
In the back of your mind, the silky voice of John Facenda begins to detail the "frozen tundra of Lambeau Field." Green Bay Packers quarterback Bart Starr followed Jerry Kramer's famous block to win the 1967 NFL Championship Game. While this title game is popular for pitting head coaches Vince Lombardi and Tom Landry of the Dallas Cowboys against each other, the coldest game in NFL history only deserves on nickname: The Ice Bowl.
Being caught outside in the blistering cold weather is never fun, but deliberately going to an NFL game when the temperatures are sub-zero is pure madness. I'll gladly sit back on my couch and watch the game on TV with the heat turned all the way up.