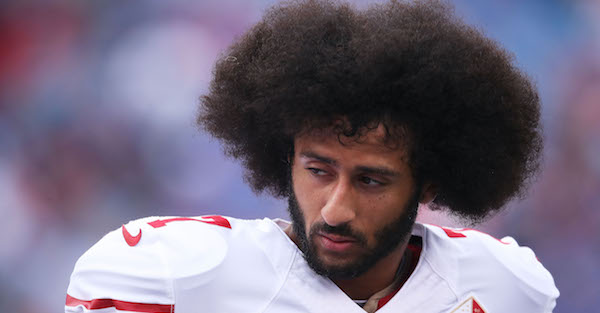 Tom Szczerbowski/Getty Images
BUFFALO, NY - OCTOBER 16: Colin Kaepernick #7 of the San Francisco 49ers warms up before the game against the Buffalo Bills at New Era Field on October 16, 2016 in Buffalo, New York. (Photo by Tom Szczerbowski/Getty Images)
The NFL and Colin Kaepernick are currently locked in a proverbial battle of "he said, she said", but the former NFL quarterbacks' attorney seems to think its the league that is in the wrong.
This all stemmed from a reported meeting that was being set up between the two camps. The NFL's executive vice president of football operations, Troy Vincent, apparently reached out to the former 49ers quarterback and invited him to a one-on-one sit down with league commissioner Roger Goodell. The NFL went on to say that Kaepernick didn't take the league up on that offer for a sit down, which is a claim that the quarterback's attorney Mark Geragos, vehemently denied, via Charles Robinson of Yahoo Sports:
?We responded immediately [to the Oct. 31 invite] that Colin would be happy to attend,? Geragos said of a personal meeting with Goodell. ?Because of the grievance we asked that a mediator be present. A mediator would ensure that the discussions were productive and confidential and not used as a public relations stunt or prop by the league. Colin?s proposal was rejected.?
It seems to be a bit surprising that the league would deny Kaepernick's request for a mediator, but according to NFL spokesperson Joe Lockhart, also via Robinson and Yahoo Sports, whether or not this story has to do with mediators or lawyers shouldn't be the question. It's about whether or not the NFL invited Kaepernick to talk things over.
?Troy reached out to Colin directly ? not to his lawyer ? and said, ?If you want to come in, come in,? ? Lockhart said. ?This isn?t about his lawyer. This isn?t about a mediator. The question of, ?Has [Colin] been invited in??, the answer is yes. This isn?t part of any grievance process. This is part of the overall discussion we?ve been having on some of these social issues.?
For context, Kaepernick is currently suing the NFL for collusion. He is suggesting that the league's owners have actively conspired to keep him off an NFL roster due to his taking a knee during the national anthem when he was last on an NFL roster.